Jump to:.____
A-G (intro) _
O-Z____ _
H
HAINES, DEBORAH L. — Media, PA
Deborah Haines
After six years in the Research and Planning Department of the Chicago Urban League, I earned my doctorate in history from the University of Chicago. I now live near Philadelphia with my husband, David Rosenberg, who teaches at Temple University, and our daughter, Rebecca, now nine. I am currently happily unemployed, finding time for research and writing as well as family and volunteer work.
HARRALSON, ELIZABETH (BIZ) GLENN — Lexington, VA
Elizabeth 'Biz' Glenn (Harralson)

I am looking forward to seeing old friends at the reunion. We have recently finished the 10+ year project of refurbishing an 1825 house and are working on getting it on the National Register of Historic Places. My husband, an ob-gyn, is also my boss; I do the billing and insurance for him and his partner. I also enjoy volunteer work on the board of the Historic Lexington Foundation.
Harrison, Sally Price: see McKNIGHT
HAUSS, CHIP — Falls Church, VA
Chip Hauss

The overlapping commitments to political change and intellectual inquiry which Oberlin kindled still keep me going, with, of course, the twists and turns 25 years will bring. After 17 years at Colby College, I now teach politics at George Mason near Washington, D.C., though my views are very definitely not those one normally finds inside the Beltway. I share life with my wife Gretchen Sandles, her daughter (a junior at Williams), a dog and three cats.
HEPP, DAVID — Seattle, WA
David Hepp
I am a landscape architect and Director of Planning in Seattle. Hobbies include hiking, gardening, woodworking, and traveling.
HERZINGER, KERRY FRIEDMAN — Hattiesburg, MS
Kerry Friedman (Rosen)

I have lived for sixteen years now in Hattiesburg, Mississippi. I currently am the Assistant to the Dean for Students Services at the University of Southern Mississippi, which means I coordinate academic advising and stuff like that. My daughter Jessica is 18 and a freshman at Tulane. My other daughter, Caitlin, is 15 and in 9th grade. E-mail messages are most welcome. Visitors are welcome, too.
HIATT, H. CHARLES — St. Clair, MO
Homer 'Charles' Hiatt
I am a husband to Bonnie, a doctor for many people, a father to many children, and a caretaker for many animals, mainly sheep. Standing Dog Ranch is home.
HIGGINS, LYNN ANTHONY — Hanover, NH
Lynn Anthony (Higgins)
We still live in New Hampshire, where I am Professor of French and Chair of my department at Dartmouth. I also teach in Film Studies and Women's Studies. Roland ('68) commutes 70 miles to Keene, where he is Professor of East Asian History at Keene State College. Our son Julian, age eight, is passionate about art, theater, and swashbuckling, and he gives us, daily, a new sense of fun and commitment to Oberlin values.
Hogrefe, Sandra: see MARTIN
HORMANN, ANNE BROOKS — Pasadena, CA
Anne Brooks (Hormann)

I live in Pasadena, California, with my actor/director husband, Nicholas Hormann ('66), and our nine-year-old son. I split my time between parenting, part-time work, and singing with a 40-voice concert choir.
Howard, Victoria: see MYERS
Howell, Penny: see JOLLY
I J
JACOBSON, STEVEN — Chicago, IL
Steven Jacobson
After seven years in the San Francisco area and four in Oberlin before that, we've now been in Hyde Park/Chicago four years. Our son is four. My wife is Laura Rigal, OC '82. I am a private practice clinical psychologist.
JERAULD, JEAN BAILEY — Lexington, KY
Jean Bailey (Jerauld)

During the California fires of 1993 I lamented the local dearth of contests with Mother Nature that had helped build my character in my Los Angeles years. Then came the Great Snow of 1994. Fording a creek with a plastic sled full of groceries builds character. I've discovered bird watching and renewed joy in the change of seasons in Kentucky and have found continuity in my enjoyment of ringing hand bells and organizing Oberlin alumni events.
JOHNSON, BRUCE — Springfield, MA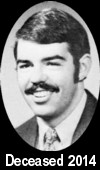 I chose Oberlin for its music, and music is still the one thing that moves my soul the most, after my children. Singing and entertaining continue to be rewarding pastimes. I thank Oberlin for so enriching my musical background.
JOLLY, GEORGE — Saratoga Springs, NY
George Jolly
I divorced and in 1991 remarried Caroline Seligman. She does domestic violence work and I do mostly geriatric internal medicine. We enjoy, but see less of, the five young adult children we share. We frequently borrow the babies of friends who started late. We've trying to decide what new and interesting things to do with the rest of our lives.
JOLLY, PENNY HOWELL — Saratoga Springs, NY
Penny Howell (Jolly)

I'm still doing well in Saratoga Springs, NY: teaching Art History at Skidmore, cross-country skiing and hiking in the Adirondacks, playing and singing in musical groups, watching dance, and generally keeping all too busy. My daughter Jennifer graduated from Oberlin in '93, and my son Joseph is now college-hunting.
K
KAPLAN, PAUL — Jericho, NY
Paul Kaplan
I am Senior Rabbi of Temple Or-Elohim in Jericho, NY. My wife, Andrea, and I have been married for 21 years. I have two teenage children: Sara (13), who still likes bicycles, and Aaron (15), who wants a car. We also share a house with our loveable West Highland white terrier of noble lineage, Joey.
KESSLER, DIANE COOKSEY — Newton Centre, MA
Diane Cooksey (Kessler)
I became Executive Director of the Massachusetts Council of Churches in 1988. I formerly served as Associate Director for Public Policy, a post I held for 13 years. I graduated from Andover Newton Theological School in 1971. An ordained minister in the United Church of Christ, I was a member of that denomination's National Council for Ecumenism from 1984 through 1993 and served as chairperson from 1988 through 1991. I authored two books, Parents and the Experts (Judson Press, 1974) and God's Simple Gift (meditations on friendship and spirituality), plus several articles.
KIDDER, JANET — Eastsound, WA
Janet Kidder
Although I have recently become a therapist (psychologically speaking), I have also begun to spread my wings musically and have grown into the voice I always wished for while I was at Oberlin. Add two fantastic children to that (Tom, 10, and Anna, 13), and I can say that life is pretty full on my island.
KIERAN, SHAUN — South Portland, ME
Shaun Kieran
I'm doing well in Maine.
KLEIN, JOE — Hixson, TN
Joseph Klein

I have moved to Chattanooga, TN, where I am rabbi of Mizpah Congregation. I continue to teach and coach fencing.
KNOWLTON, LUNETTA BENNETT — White Plains, NY
Lunetta Bennett (Knowlton)

My husband, Michael, and I have been happily married for 25 years. Our children, Michael (24) and Amy (22), have both completed their undergraduate work from Miami University, Oxford, Ohio. I have taught choral music for the past 20 years and am currently music department chairperson and high school choral teacher for the Mamaroneck School District, Mamaroneck, New York. Michael and I spend vacations, weekends, and all other free time working with our 75 Bonsai plants and searching for beautiful viewing stones. We enjoy sharing our collection.
KRAMER, JOHN — Iowa City, IA
John Kramer

People touring flood-ravaged regions of the Midwest are welcome to visit. Our toddler, Clair, will be happy to help entertain you.
KURKOWSKI, DAVID — North Wales, PA
David Kurkowski

With my wife, Myra, I have put down roots here in N. Wales, PA. We have three children: Susan (17), Dan (14), and Ellen (10). I earn my living as a market research consultant. For fun, I play the oboe (dormant for two decades) and sing at a local Lutheran Church. Howdy!
KURTZ, NANCY COFFIN — Newton Centre, MA
Nancy Coffin (Kurtz)

Like most of us, I've had a busy 25 years juggling career, home life, and raising kids. I practice environmental law at Massachusetts Water Resources Authority, a regional water and sewer agency. I sing in the Tanglewood Festival Chorus of the BSO. My daughter Esther (17) is applying to conservatories to study oboe. My twin sons (14) are in the ninth grade: Adam, a rock guitarist; Nathan, a computer buff. With the recent end of my 23-year marriage, I look ahead to continued change and growth.
LASATER, LOIS TABER & MICHAEL — Bowling Green, KY
Lois Taber (Lasater)
John 'Michael' Lasater
Lois works as a litigation paralegal for a Bowling Green, Kentucky, law firm. Michael is an Associate Professor of Communication and Director of Educational Television Services at Western Kentucky University. Ten-year-old daughter, Amy Elizabeth, is a fifth-grader who enjoys writing poetry and fiction and plays the piano and violin.
Lehman, Christine: see ROGERS
Leinwand, Roberta: see OPPER
LIPTON, LAUREL — Seattle, WA
Laurel Lipton

I am a horticulture librarian at the University of Washington and President of the Pacific Northwest chapter of the Special Libraries Association. Favorite activities include travel, gardening, and reviewing books for the Library Journal.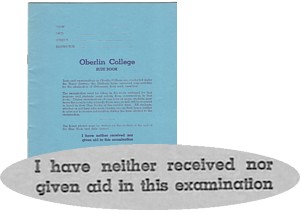 LUBAS, MICHAEL — Rochester, NY
Michael Lubas

How ironic, that the statement made at the close of each Blue Book and necessary to move from course to course, was the very opposite of what is necessary in the course of life.
LUDWIG, ANN MATLOCK — San Juan Capistrano, CA
Ann Matlock (Ludwig)

25 years! I received my M.M. ('71) from New England Conservatory, then taught public school music. I've been happily married since 1973. I have lived in Vermont, Colorado, Utah, Massachusetts, and California. I have always taught, performed, volunteered, and enjoyed being an at-home mom. Three years ago I began working in the budget office at UC Irvine. Our son, Erich, is a high school senior, and daughter Karen is a high school sophomore. I enjoy tennis, hiking, and California sun. I'm grateful for family, friends, health, and a full life.
MARTIN, DANIELLE (DANI) — Austin, TX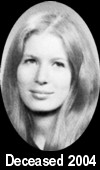 Austin is a great place to be for nine months of the year, and after living here and teaching piano at the University of Texas for 21 years, I do a bit of Texas boasting myself (I'm a native New Yorker). It's hard to believe 25 years have passed since those intense and crazy days. Hope all who attended the "Loser's Zoo" have turned out winners.
MARTIN, SANDRA HOGREFE — Syracuse, NY
Sandra Hogrefe (Martin)

I've been working in health administration for a variety of organizations over the last 20 years. I am currently Executive Director of Home Aides of Central New York, a large home health care agency. Prior to this, I was a health care management consultant for Coopers & Lybrand. Katie, my 17-year-old- daughter, and I live in Syracuse, NY, where I settled after graduate school. For fun, I play golf, exercise, and volunteer for community organizations, including the Rotary.
Matlock, Ann: see LUDWIG
McHUGH, ELAINE — Krum, TX
Barbara 'Elaine' McHugh
After studying dance in New York and at UCLA, I moved to San Francisco in 1973, where I drove a school bus, worked in the union, and taught dance and physical activity to folks of all ages, with and without disabilities. In 1991, my partner of 18 years and our two dogs and I moved to Texas, where I'm finishing a Ph.D. in Adapted Physical Education, hoping soon to teach in a college or university.
McKNIGHT, SALLY PRICE — Needham, MA
Sally Price (McKnight Harrison)

I find that I've become a folk musician. Hammered dulcimer is my main instrument, and playing music for the "pure joy of it" is my newfound experience. (Tendinitis made me give up flute in the 70's.) My other treasure is my extended family: three healthy and lovable children, my ex (Steve McKnight '69) and his wife Jean, and my boyfriend Tom. As the children head off to college, I'm thinking of going to school myself to become a music teacher.
McKNIGHT, STEPHEN — Needham, MA
Stephen McKnight

A B.A. from Oberlin College is considered somewhat subversive in a department of Electrical Engineering, but with career prospects in physics what they are today, I'm happy to have tenure. I'd like to hear from any Oberlinians by e-mail. Replying to a message last year led me and my son David into exploring uncharted rapids on the Rivière Godbout in Quebec in the company of George Spencer-Green and Mark Schlawin.
McDonald, Carol Pennington: see VALENTA
Montgomery, Elizabeth: see MORTON
MOORE, JULIE SANFORD — Portland, OR
Julie Sanford (Moore)
I have been a professional Sign Language interpreter for the past 15 years, certified by the National Registry of Interpreters for the Deaf in 1979. I am currently the coordinator of interpreting services at the Washington School for the Deaf in Vancouver, WA, and I am on the faculty of the Interpreter Training Program in the Department of English and Modern Languages at Portland Community College in Portland, OR. My two children, Dan (13) and Kara (10), and I live in Portland along with an assortment of pets.
MORSE, J. KENNETH L. (KEN) — Bethesda, MD
James 'Kenneth' Morse
I continue to work in the field of Employment Law. I enjoy the work I have been doing to enforce the "Americans with Disabilities Act." My greatest joy is the time I have with my wife, Lonni, and my two great children, Michael (12) and Meagan (3).
MORTON, ELIZABETH MONTGOMERY — Downers Grove, IL
Elizabeth 'Betty' Montgomery (Morton)

Gregg and I happily/hectically (depending on the day) cope with each other, two teen-aged sons, church involvements, Boy Scout volunteer work, jobs, and life in general. For the past three years I have been the head teacher in an alternative public school for pregnant and parenting teens. I teach whatever is needed: English, math, history, etc. No Latin or Greek!
MORTON, GREGG — Downers Grove IL
Gregg Morton

I am still productively working for Blue Cross/Blue Shield of Illinois. They just changed my job title to Supervising Budget Consultant, but it's the same job. Excitement for the coming year will be serving on the staff of the Boy Scout advanced leader training, Wood Badge.
MOTT-GALE, MARTHA SMITH — Brooklyn, NY
Martha Smith (Mott-Gale)
I am still in the New York City Opera Orchestra. In 1990 I remarried to Robert Gale, a busy trombonist in Philadelphia. My and Jonathan's daughters, Emily and Alison, just entered Swarthmore and Bryn Mawr Colleges respectively.
MURPHY, LAWRENCE — New York, NY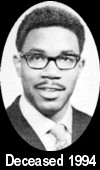 Still combatting racism and bias-related crime among New York's youth, a challenge indeed!
MUTEL, CONNIE FLEISCHER — Solon, IA
Cornelia "Connie" Fleischer (Mutel)
I continue to live with hubby and boys in a woodland outside of Iowa City. Most of my passion feeds into natural history writing and natural area preservation. I work at the U of Iowa as a scientific historian, but I write natural history books and essays in my "spare time." The kids are getting older, and I've had my fill of nurturing. I am ready for the childless, post-menopausal, strong woman half of life, expanding continuously until I float away into the skies.
MYERS, VICTORIA HOWARD — Dover, NH
Victoria Howard (Myers)

Life brings much happiness as I experience the growth of my two sons, Alexander (14) and Spencer (11), and the wisdom and joys of my second marriage to Jack. I continue my work as school psychologist in a caring elementary school. Playing cello and singing in a small a capella group remains important. It's been wonderful to share music making with Jack, who sings and plays organ and piano, and with Alex and Spencer, our "emerging" musicians.
NAJDOWSKI, PAMELA POTTER — Santa Fe, NM
Pamela Potter (Najdowski)

I have been living in Santa Fe for 17 years, longer than I have lived anywhere else. It looks like we are in the Land of Enchantment for the duration, or at least until our two children finish school and I retire from my position as a social worker with the public schools. My husband, Mike, continues as a silversmith. In addition to more traditional social work, I have established an environmental education program which includes a summer ecology camp.
NIED, MARIA WAITE — Litchfield, CT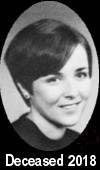 I am director of Family Services/Aftercare at a residential treatment center and am running a new extended Day Education program. My focus at the moment is on birthing a community crisis intervention/postvention team. Dennis is a "new, young" artist, which puts us in the art world — wild. Jared (15) and Sarah (12) are involved in running and karate with Dennis. I look to yoga for sanity. Also we have four cats, two dogs, and four horses.
Norman, Marialyce: see SUNAMI
NYGREN, ELINOR (ELLY SZAPIRO) — Boulder, CO
Elinor Nygren

I've been working as a psychotherapist (private practice and graduate-level teaching) in Boulder, CO, since 1979. My life and work are very spiritually oriented. I am quite involved in working on my own spiritual growth and healing, as well as in assisting others with theirs. Bruce Nygren ('69) and I were divorced in 1981 and I am remarried to Bernie Marek. Bruce and I get along well and share a daughter, Manora (15).
Jump to:.____
A-G (intro) _
top of this page
NEXT PAGE ⇒ O-Z____ _