Dear '69 Classmates,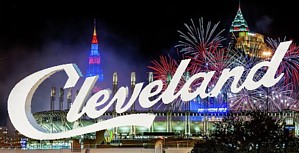 Are you interested in getting together a couple of days early? Would you like to explore the big-city excitement that did not exist when we were students? Cleveland is now the "City that Rocks!"
Our pre-reunion experience will be May 22 through 24. (Note: this is an optional event and not officially managed by Oberlin.) We have some updates to our schedule for Wednesday evening, Thursday morning, Thursday evening, and Friday morning; see the highlighted items below.
The following 49 people have reserved 31 rooms at the hotel.
Susan Alessi
Jean Bailey (Jerauld)
Jon Dreger +1
David Eisner
Paul Fardig +1
Alan Firestone
Walt Galloway +1
'Biz' Glenn (Harralson) +1
Tamme Haskell +1
Ellen Hill
Sandy Hogrefe (Martin) +1
Deborah Horn (Roosevelt) +1
Lonnie Jenkins +1
John Kramer +1
Mary Lewis
Ann Matlock (Ludwig)
Mary McDonald +1
Steve McKnight +1
Carol McLaughlin (Fishwick) +1
Rosanna Parmeter (Hansen) +1
Janet Phillips (Grigsby) +1
Pam Potter (Najdowski)
Sally Price (McKnight Harrison)
Ron Rapoport +1
Bill Roberts
Christie Seltzer (Fountain) +1
Bob Shay +1
Janet Shibley (Hyde)
Tom Thomas
Barbara Tift (Featherstone)
Aline Zoldbrod +1
And the following additional eight indicated on our survey that they plan to join us.
Anne Brooks (Hormann)
Nancy Coffin (Kurtz)
Lynn Edwards
Victoria Howard (Myers)
Mike Jarvis
Bill Natale
Cary Seidman´
Diane Vannais
RTA's Red Line (the "Rapid") will take you from the airport directly to the Tower City Station, located on Public Square — only a block from the Drury Plaza Hotel. This 1931 landmark, opened to guests just three years ago after a stunning $52-million renovation, offers a free hot breakfast and a free happy hour! Bring your bathing suit — it has an indoor pool and whirlpool. I booked a block of rooms (group number 2361971, www.druryhotels.com, 1-800-325-0720), but the cutoff date for reservations has been reached.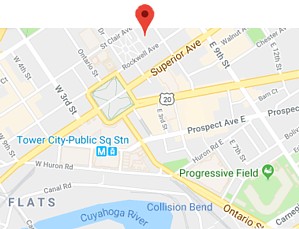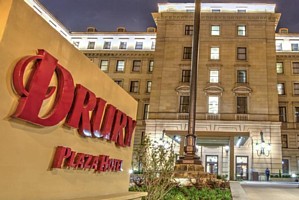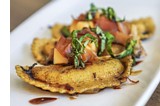 The plan now is to meet at the hotel at 6:00 pm on Wednesday, May 22, and take a two-minute walk to a restaurant called Murano, serving modern Italian cuisine. Our group has a private dining room reserved just for us, but there would be room for extras next to it in the restaurant itself. Dinner selections range in price for $23 to $32 and include chicken piccata, pappardelle bolognese, sea scallops Florentine, and filet mignon. If anyone has food issues, please let me know.
The next day will afford lots of possibilities.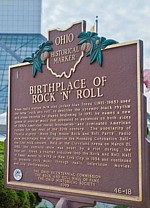 The Rock and Roll Hall of Fame, open from 10:00 to 5:30, was a popular option last year. And this year, the "Woodstock at 50" exhibit features rare prints, performance outfits, video footage, original signage and more — in case you were not lucky enough to be at the initial event! We have more than 15 people signed up for a group at the Senior rate of $16, and additional rock and rollers are welcome. We will walk over after meeting in the hotel lobby at 9:30. (Next to the Hall of Fame is the Great Lakes Science Center, home to the NASA Glenn Visitor Center.)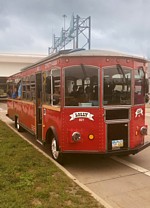 Lolly The Trolley is a city tour of downtown featuring more than 20 miles of facts and fun. It's a good way to see it all without exhausting yourself! A one-hour tour is $16 per person if we have a minimum of 25.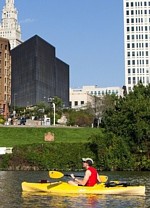 Boat tours are not available until the weekend, but you can go kayaking on the Cuyahoga (no longer burning!) Bike rental stations are also available throughout downtown and University Circle (five miles east), and there is now a modern bus line. The website thisiscleveland.com includes activities such as kayaking and bicycle tours around town.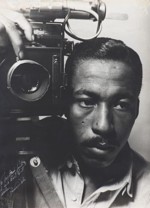 In University Circle, the Cleveland Museum of Art is free and amazing, with a lovely restaurant and cafe in the atrium. It's now featuring the pioneering early photographs of Gordon Parks, a musican, composer, and photographer who chronicled life in the 20th century. "Gordon Parks: The New Tide, Early Work 1940-1950" was named by Vogue as one of the 7 Art Exhibitions You Won't Want to Miss This Spring.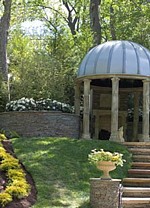 And the Botanical Garden is right across the street. Both are worth a visit.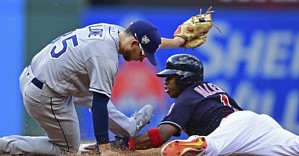 ►

BASEBALL
To those who've bought tickets for the Indians game against Tampa Bay, Cary Seidman writes that we'll receive an email a couple of weeks in advance with our ticket(s) as an attachment. "You should be able to print the ticket (any printer will do). And if you have the 'MLB Ballpark' app on your cell phone, you can find them there as well (but I usually bring a printed ticket to the game just in case the scanning technology at the gate isn't operative or my technical incompetence comes into play). If, for some reason, you are unable to retrieve your ticket(s) from my email, PLEASE get in touch: cseidman@earthlink.net or 216-314-1104, call or text is fine."
"We'll have a group of about 20. I have set up neighboring seats for those who requested it, but don't feel constrained by your assigned seat/row. There should be plenty of space for us to move around. A Thursday game against the Rays doesn't figure to be a sellout! They are decent seats, lower deck, about 15 rows back, about midway between first base and the right field foul pole. We will be near many of the choice eating spots, which are at 'The Corner,' in the concourse behind the right field foul pole."
"When I purchased the tickets for the 5/23 game, I ordered two extras in case there was any late interest. One of those has been claimed, so I have ONE remaining. Let me know ASAP if you want it. Please do not request a specific pitcher for Cleveland… one of our classmates "requested" Corey Kluber (20-game winner in 2018) for our game, and Kluber promptly suffered a broken arm."
"Progressive Field is a short walk from downtown Cleveland. Classmate Sal Barbatano's brother-in-law is the PA announcer, and he told me that our group will be recognized on the scoreboard during (or after) the 4th inning. Remember... GAME TIME IS 6:10 P.M."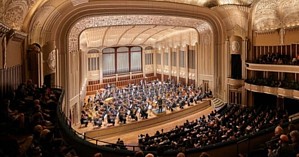 ► CLEVELAND ORCHESTRA
The May 23 program in beautiful Severance Hall will include Grieg, Strauss, and Sibelius with solo by Simon Keenlyside. This is the last weekend of the season, so anyone interested should reserve tickets early at www.clevelandorchestra.com.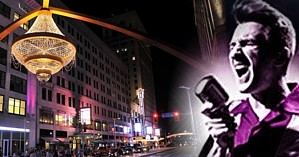 ► BROADWAY MUSICAL
This will also be the last weekend when Cleveland rocks to the Tony-winning recreation of a jam session with the Million Dollar Quartet (Johnny Cash, Jerry Lee Lewis, Carl Perkins, and Elvis Presley). Actors straight from Broadway perform "Blue Suede Shoes," "Fever," "Walk the Line," "Great Balls of Fire," "Folsom Prison Blues," "Whole Lotta Shakin' Goin' On," "Hound Dog," and more. It's live on stage at the Hanna in Playhouse Square, home of the world's largest outdoor chandelier.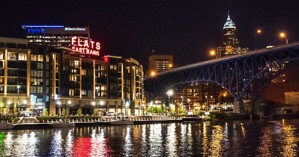 ► NIGHTCLUBS
You and your Obie friends can investigate one of the music clubs along the river in the Flats.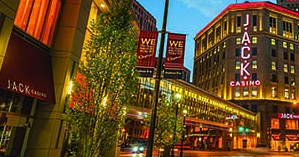 ► GAMES OF CHANCE
Or if anyone has money to spare, there is a casino within walking distance on the newly redesigned Public Square!
After breakfast on Friday morning, some of you might want to take advantage of one of the "Thursday" options you missed. There are several options for people not leaving for Oberlin immediately: a walking 🚶 tour of Public Square including the Soldiers and Sailors Monument, Lolley the Trolley city tours, and a possible walking food tour. Let me know if you are interested and I can make further arrangements.

Then it's on to the reunion proper! I have had several requests for ride-sharing to Oberlin on Friday, and our class has a rideshare tool. Go to www.groupcarpool.com/t/r60e28.
Final details are still being worked out, and I would welcome any ideas or suggestions. It should be a fun and relaxing time before we have even more fun in Oberlin.

Hope you can join us,
Carol McLaughlin Fishwick

dfishwick@sbcglobal.net