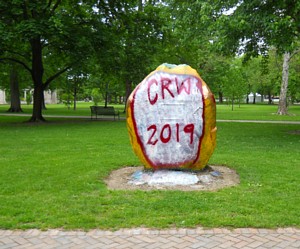 Welcome to our
Oberlin College & Conservatory
Class of 1969
50th Reunion
Website

Thanks for coming! As part of the CRW (Commencement / Reunion Weekend), our 50th Reunion was held on campus May 24-27, 2019. We hope to maintain this website for years so it can serve as our "memory book." See the -Scrapbook section.
If you're new here, you'll see an Announcement below explaining how to join the site. If you've been here before, continue staying in touch with comments on your -Classmate Profile as well as messages to your friends.
Our next big get-together will be a Cluster Reunion together with two other classes, 1967 and 1968. It's scheduled to be held in the spring of 2023. Earlier we asked you to save the dates of May 26-29, 2023; now the Academic Calendar indicates that Commencement will be one week earlier than that; and, of course, everything these days is subject to change.
ANNOUNCEMENTS
If you're a member but aren't currently signed in, click the Sign In button. It's either on the upper right of this screen or below these Announcements.
Pandemic Stories
In 2020, it was thought that coping with COVID-19 would require withdrawing $31 million from the college's endowment, but now that estimate has been reduced by 45%. In June of 2021, ObieSafe policies began to be lifted as recommended by the Ohio Department of Health, and campus life began to return to normal. There were 839 students on campus for "summer semester" classes, and more than 900 new students were expected to enroll in the fall, making the incoming class the largest in Oberlin's history! Details are in this article from the Oberlin Review.
President Ambar's Chief of Staff told the story of Oberlin's leadership planning from March through November of 2020. It is dramatic and detailed. Read it at https://inside.oberlin.edu/oberlin-2020/ Then, looking forward, in August 2021 Ben Jones interviewed President Ambar. Watch it at https://vimeo.com/588389938/45c693f5f7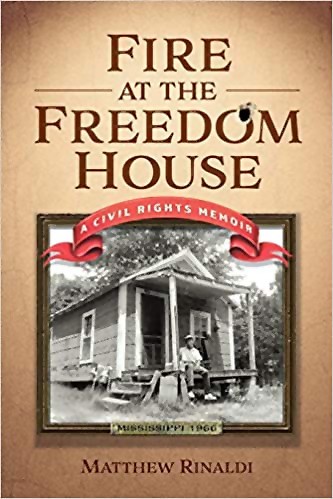 A Civil Rights Memoir
Matthew Rinaldi has published Fire at the Freedom House, which he's worked on for over a decade.
It begins with the trip by Oberlin students to Mississippi with OACR during winter break in 1966, which one reviewer calls "very relevant" to current-day issues. "The Black residents of small-town Mississippi, working at the direction of the Mississippi Freedom Democratic Party, overcame difficulties as they struggled with some white volunteers from the North to integrate businesses and do the work of voter registration." Many Oberlin classmates are included.
The book can be ordered directly from any bookstore, and it's also available from Amazon.
Congratulations
Walt Galloway received the Alumni Medal for outstanding and sustained service to Oberlin College in a video presentation during the 188th Anniversary Commencement Exercises on May 14, 2021. More details are at https://www.oberlin.edu/alumni-association/alc/awards (click on Walt's + symbol).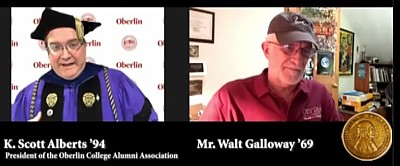 If you're new to this website, please go to the First Time Visitors menu item (on the top bar above) to learn about it. Then go to Classmate Profiles and locate your name. (Tip: try a Search for your name, which is faster that scrolling through that long list.) Click on your name and follow the prompts to create your profile.
Many of your classmates have already joined, and you can check out their profiles. However, many have not, and you can help us out! Go to Not Yet Joined This Site , where you'll find several of your old friends on the list. If you know how to get in touch with any of them, please do so and ask them to join us here.