Below are some images we've collected from various sources, as credited.

"Wow. What a reunion! I feel really lucky to have been there… and very happy to know such an amazing group of people." That's what Matthew Rinaldi wrote to classmates in June 1994, soliciting comments and pictures for a scrapbook about the 25th Reunion. He collected the submissions and printed a bound volume, sending a copy to each contributor.
Well, times have changed, and we rarely send poems or books via "snail mail" nowadays. Our 50th Reunion scrapbook is online. It's this website!
You can continue to post comments and photos on your Classmate Profile or on someone else's. Do you have several paragraphs to contribute? We invite you to post them on a special Classmate Profile that you'll find at the top of the list. It's named "Yeo 1969 Notebook."
Keep checking the What's New section to see the latest. Let's stay in touch with our friends!
THURSDAY, MAY 23, 2019: PRE-REUNION IN CLEVELAND
Below: at the Drury Plaza Hotel, the three 1969 swim team captains get together. Other folks met for breakfast.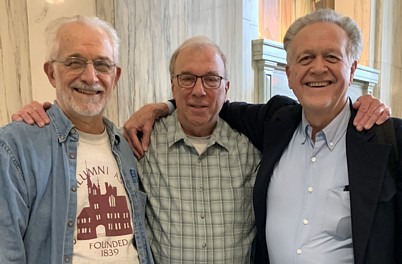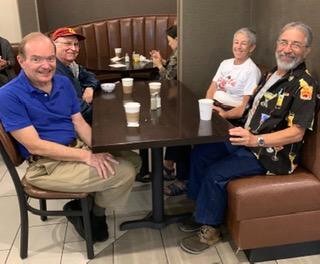 Cary Seidman, Tamme Haskell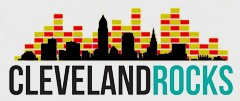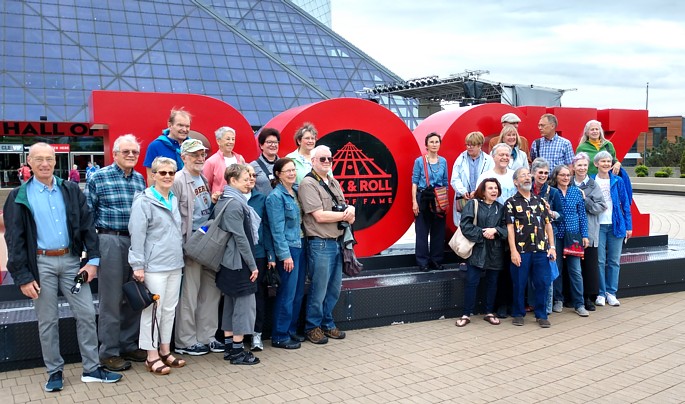 Sandy Hogrefe Martin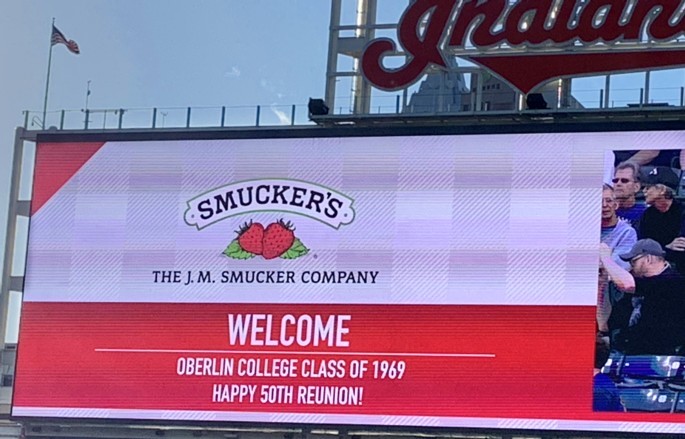 Cary Seidman


Tom Thomas

FRIDAY, MAY 24, 2019: REGISTRATION — Ward Alumni Center, 65 East College Street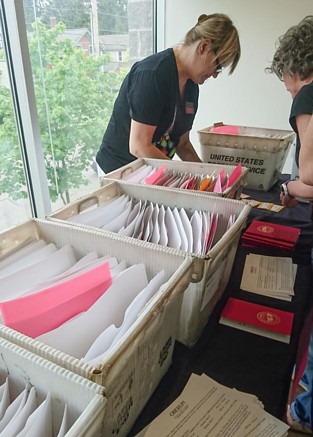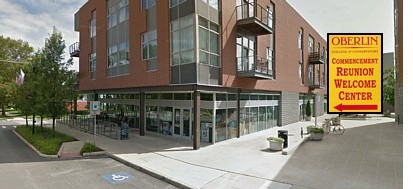 Peter Martyn, Google Earth
Of 554 living classmates, nearly half joined this website and 167, or thirty percent of the total, registered for the reunion. Not bad, considering that we're all now at least 70 years old and have been scattered across the country, even across the world, in the last half century.
FRIDAY AFTERNOON: LEADERSHIP DONOR RECEPTION — The Hotel at Oberlin

http://go.oberlin.edu/CRWphotos
FRIDAY EVENING: CHAMPAGNE SOCIAL FOR ALUMNI AND GRADUATING SENIORS — Wilder Bowl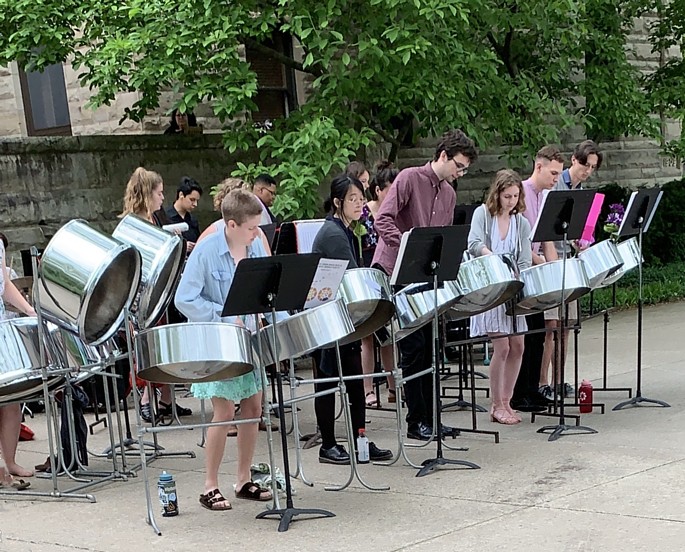 Cary Seidman


Christopher Michel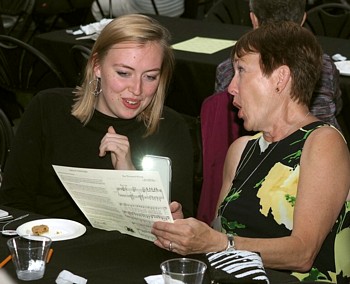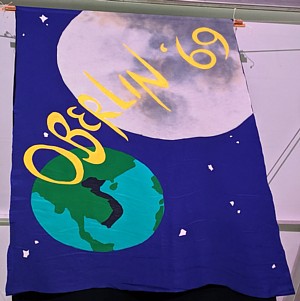 http://go.oberlin.edu/CRWphotos, Danielle Young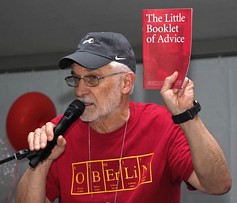 Walt Galloway offered advice (click the image above for a PDF version); Cindy Ware Clark won Oberlin Bingo.
http://go.oberlin.edu/CRWphotos

SATURDAY, MAY 25, 2019: GET TO KNOW EACH OTHER AGAIN - OR FOR THE FIRST TIME!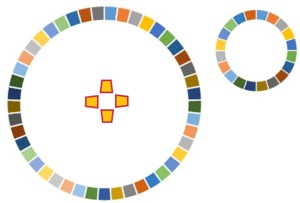 Our first discussion event, the Samoan Circle, was scheduled for 8:00 AM. The Fellowship Hall at First Church in Oberlin was set up with about 50 chairs with four others in the center, as in the larger circle diagrammed here. But few collegians relish a Saturday-morning eight o'clock, and few were on hand when the hour arrived. Facilitator Chip Hauss went to Plan B. We removed most of the chairs, as shown in the second diagram, and began by going around the smaller circle giving our name plus six words or fewer. More people trickled in, so we brought back some chairs. By 9:20, the circle had grown to 45 again.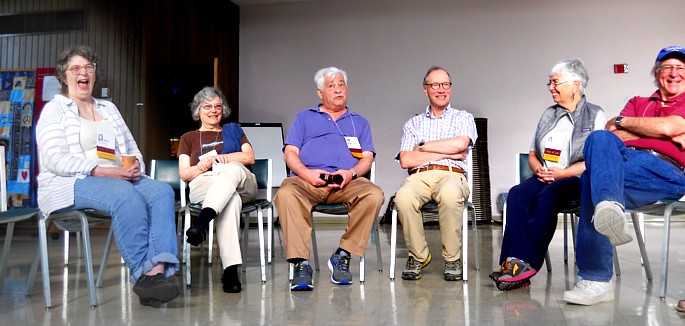 Tom Thomas
Chip observed that we septuagenarians were discussing how to use the years we have left. Bruce Nygren remarked that he was holding two contradictory thoughts at the same time: despair, yet hope for the future. But rather than try to summarize here everything that was said, we invite you to go to the Classmate Profiles of individuals who experienced this session and others.
SATURDAY MORNING: PROGRESSIVE ACTIVISM: WHAT DO WE DO NOW? — First Church Fellowship Hall


Tom Thomas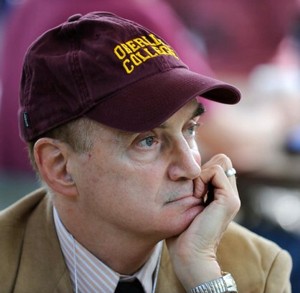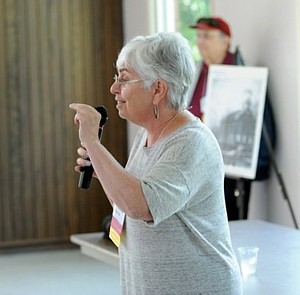 http://go.oberlin.edu/CRWphotos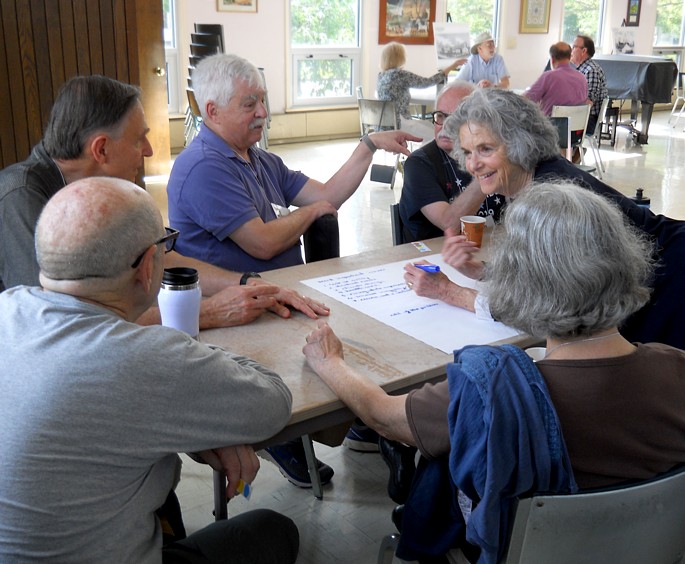 Tom Thomas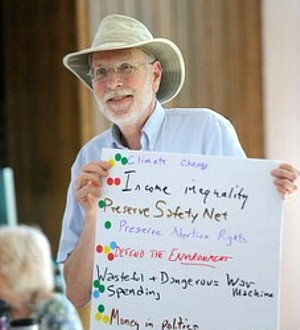 Tom Thomas, http://go.oberlin.edu/CRWphotos
SATURDAY NOON: HALF-CENTURY CLUB LUNCHEON — The Hotel at Oberlin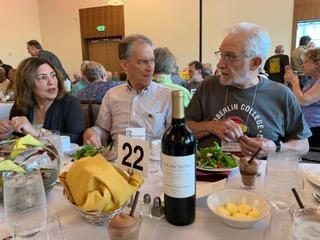 Danielle Young, Tom Thomas, Tamme Haskell
SATURDAY AFTERNOON: CONCURRENT SESSIONS ON VARIOUS TOPICS — First Church
One topic on the board was "Climate Change and Racism." If you're wondering what those two issues have to do with each other, Russ Vernon-Jones explained in a blog post.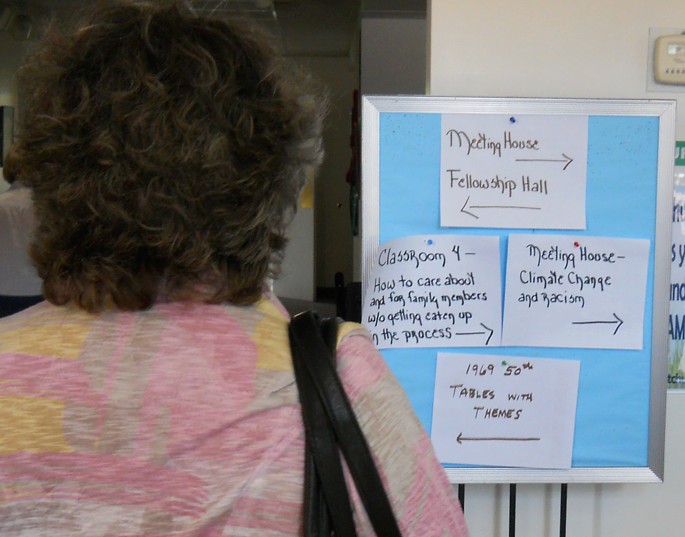 Tom Thomas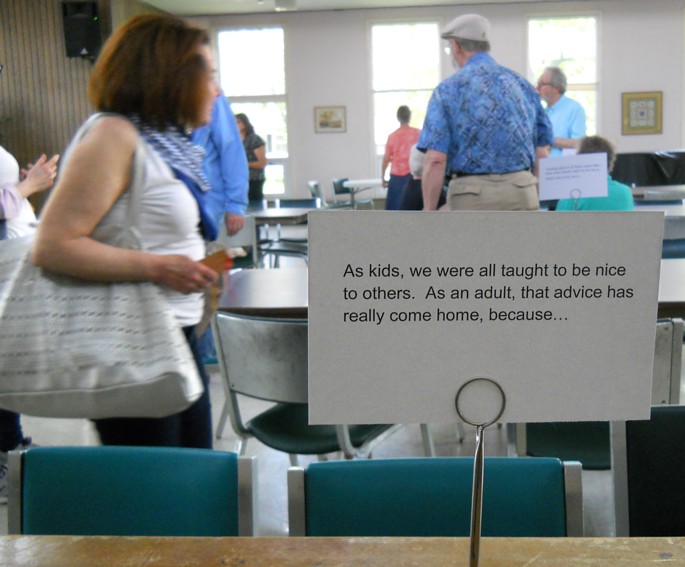 Tom Thomas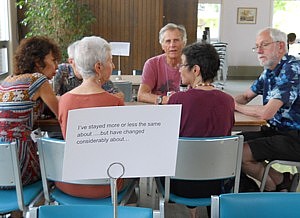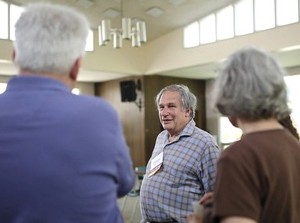 Tom Thomas, http://go.oberlin.edu/CRWphotos
SATURDAY AFTERNOON: WOBC OPEN HOUSE — Wilder Hall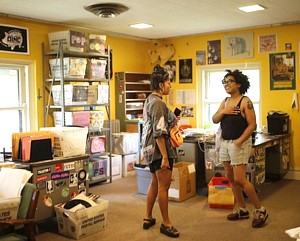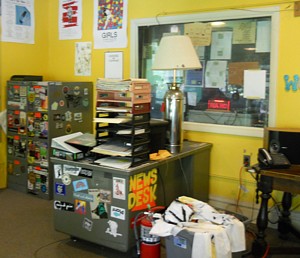 http://go.oberlin.edu/CRWphotos, Tom Thomas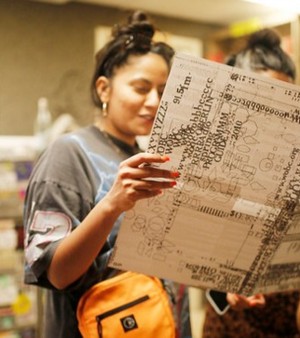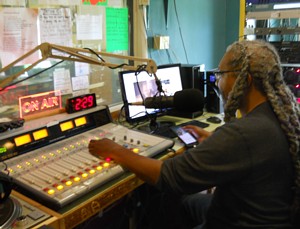 http://go.oberlin.edu/CRWphotos, Tom Thomas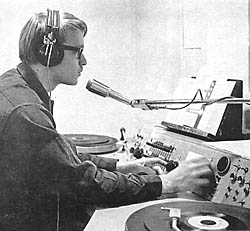 The largest extracurricular organization on campus was the radio station. A partial list of 69ers who were on it at one time or another includes 43 names: Wayne Alpern, Warren Bacon, James Baer, Bill Balin, Ken Braiterman, Tom Carskadon, Paul Charbonnet, Tom Clark, Roger Conner, Carla Jo Dakin, Richard Davis, Carl Dettman, Bob Devereaux, Bonnie Douglas, Peg Duncan, Steve Easter, Bill Edwards, John Field, Alan Firestone, Russ Fox, JoAnn Frech, Ed Gogolak, Jeff Hanna, Chip Hauss, Dave Hepp, Clark Hyde, Russ Jones, Robert Krulwich, Jud Leonard, Ozzie Lewis, Mike Lubas, Andy Meltzer, Lawrence Murphy, Bruce Nygren, John Peterman, Roger Shipley, Bill Skerratt, Mark Stewart, Tom Thomas, Dave Webster (right), Bob Weiner, Terry Winston, and Tom Witheridge.
While we're celebrating our 50th anniversary, WOBC is observing its 70th! Two members of the Class of 2019 have put together a short movie celebrating the long history of the station, You're Listening to WOBC.
SATURDAY AFTERNOON: CHORAL SING — Warner Concert Hall
The read-through performance of the Brahms German Requiem was recorded by the Conservatory. The MP3 file is no longer online, but if you'd like a copy, contact Tom Thomas (t2k_us@yahoo.com) and ask him to put it on a USB jump drive and send it to you via U.S. Mail.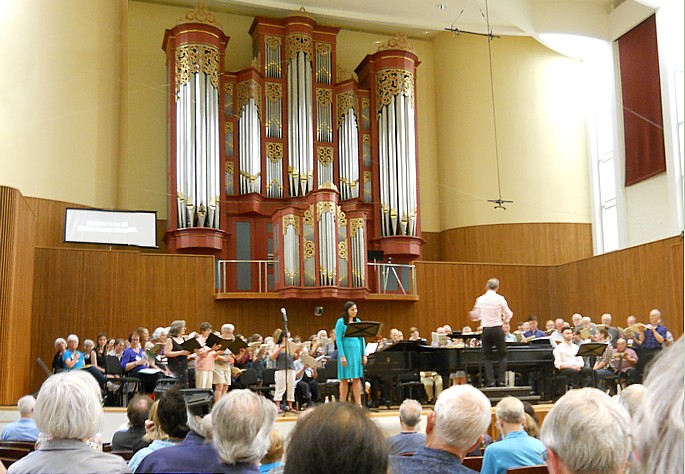 Tom Thomas (composite image)
SATURDAY AFTERNOON: 1969 CLASS PHOTO — Steps of Severance Hall
As we lined up with our numbered identification cards, John Dove brought in his motorcycle.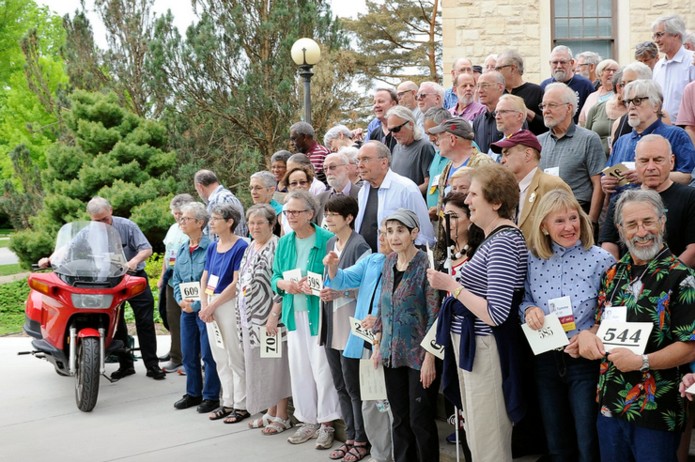 http://go.oberlin.edu/CRWphotos
A small version of the finished 1969 Class Photo is shown below. A full-size version, including a Photo Key for identifying the faces, is here. (Following the reunion it was available for free download at https://www.oberlin.edu/alumni-association/classes, with a 2019 Class Picture Order Form to order a printed copy for $10.)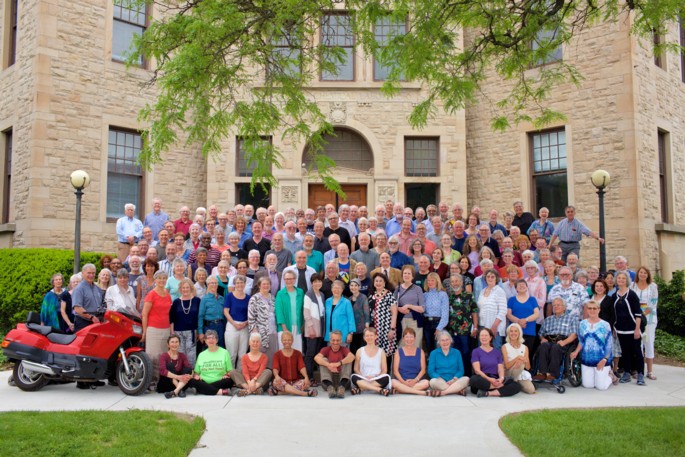 And then, as we dispersed, it started to rain. The Class of 2008, scheduled for half an hour after us, had to move their photo session to the lobby of Wilder Hall.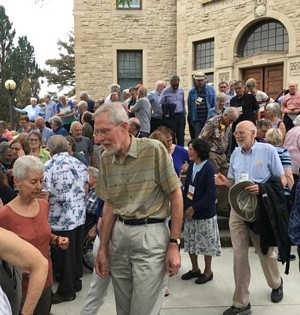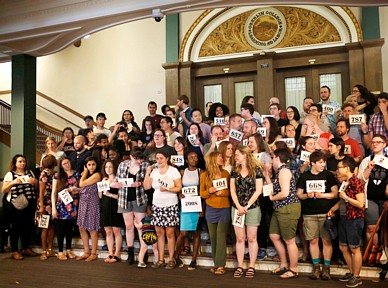 Christopher Michel, http://go.oberlin.edu/CRWphotos
SATURDAY EVENING: CLASS OF 1969 SOIRÉE — Root Room, Carnegie Building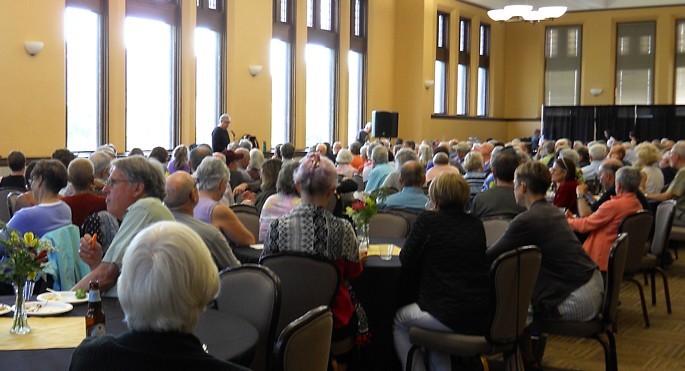 Tom Thomas
Six physics majors sat at a table. A seventh, Tom Thomas, joined them briefly before wandering off to take more pictures.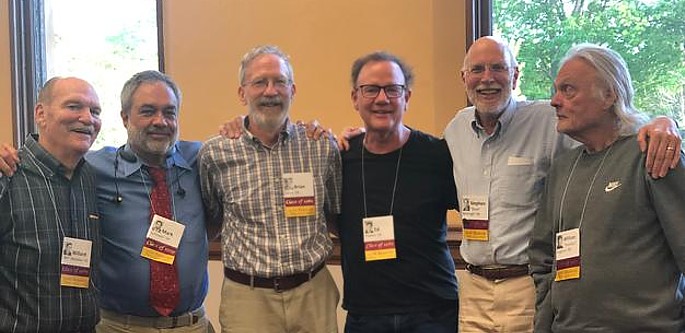 Willard Moseley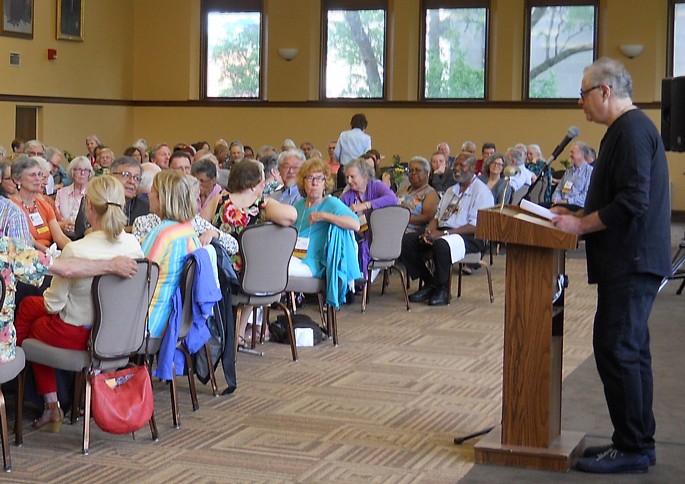 Tom Thomas
SATURDAY NIGHT: TALENT & VARIETY SHOW — Kulas Recital Hall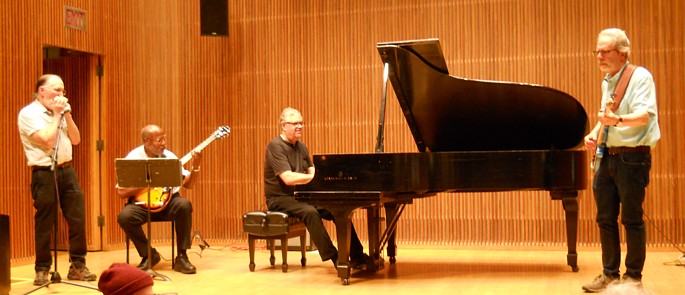 Tom Thomas
This "evening entertainment extravaganza" was recorded for your viewing pleasure, as was the Storytelling Event that was held on the same stage the following afternoon. The links are at Kulas Videos.
SATURDAY NIGHT: 1969 SOCIAL GATHERING — Kahn Hall, First Floor Lounge

Mimi Lam was at the piano for an informal sing-along at our class headquarters, and she briefly recorded a couple of the songs. These panoramic views have been stitched together from her videos.
To watch "Get Back" and the end of "Goodnight Irene," click the titles.


SUNDAY, MAY 26, 2019: WOMEN'S BREAKFAST — Asia House Library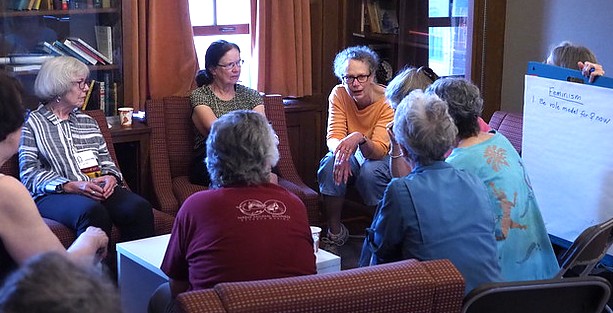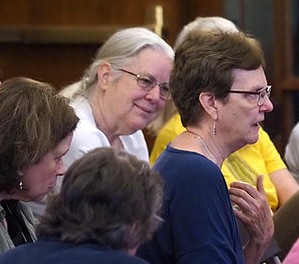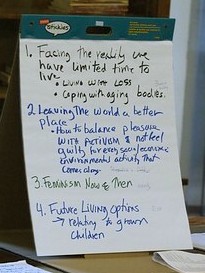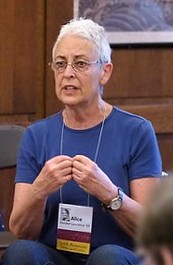 http://go.oberlin.edu/CRWphotos
SUNDAY MORNING: MEN'S BREAKFAST — Shipherd Lounge, Asia House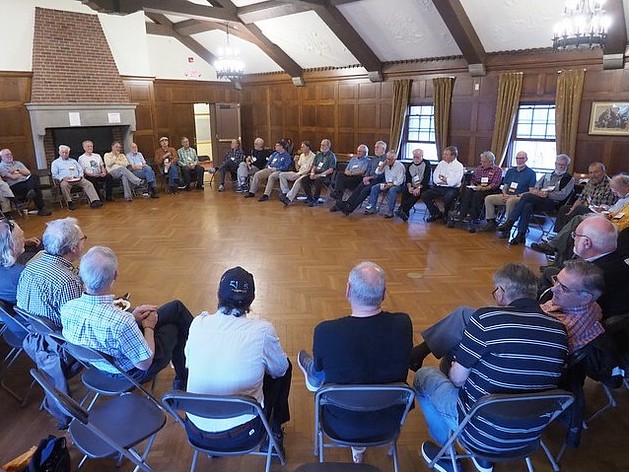 http://go.oberlin.edu/CRWphotos


Tom Thomas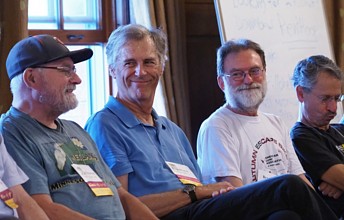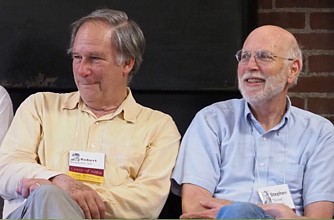 http://go.oberlin.edu/CRWphotos
SUNDAY MORNING: CRIMSON AND GOLD CONVOCATION — Finney Chapel
First there was an organ recital by Eunjae Park '19. Then the chairman of the 50th Reunion Committee, Walt Galloway, sat on the Finney Chapel stage with Alumni Association award recipients (left to right) Dr. William Bunney '52, Peter Staley '83, Christine Antonsen '15, and Susan Phillips '76. They heard President Carmen Twillie Ambar deliver her "State of the College" address.


Tom Thomas
Below is a frame from the half-hour video. Click here to view it.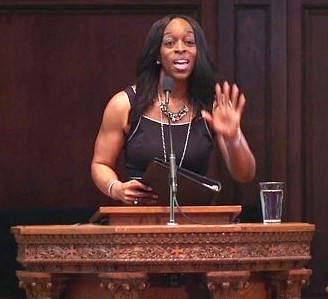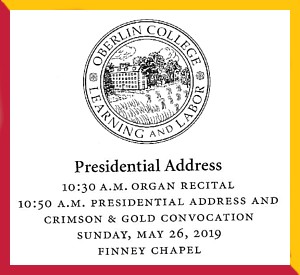 After that, Walt revealed the five-year total of contributions to Oberlin from members of the Class of 1969.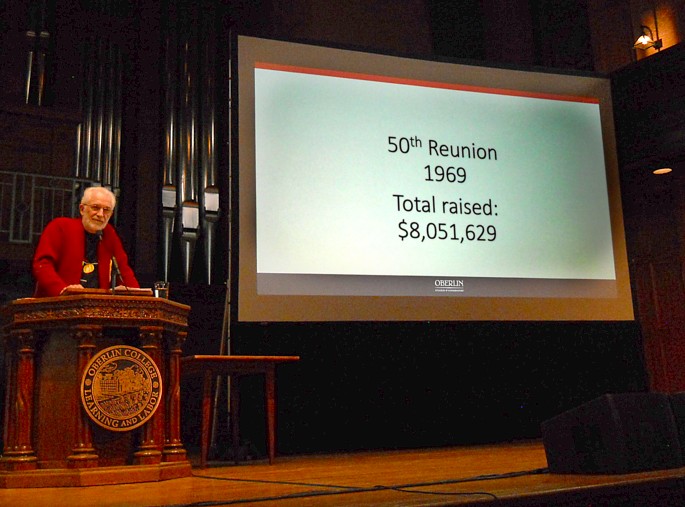 Tom Thomas
But we weren't done yet. By the official end of the five-year period on June 30, the total had reached $8,298,891.84.
SUNDAY AFTERNOON: STORYTELLING EVENT — Kulas Recital Hall

Our tales were recorded for posterity; the links are at Kulas Videos.
SUNDAY AFTERNOON: MULTIFAITH BACCALAUREATE CELEBRATION — Finney Chapel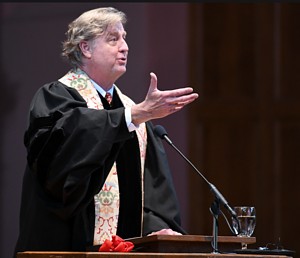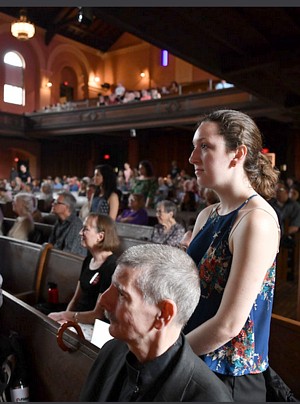 http://go.oberlin.edu/CRWphotos
SUNDAY AFTERNOON: CLASS OF 1969 MEMORIAL SERVICE — First Church Meeting House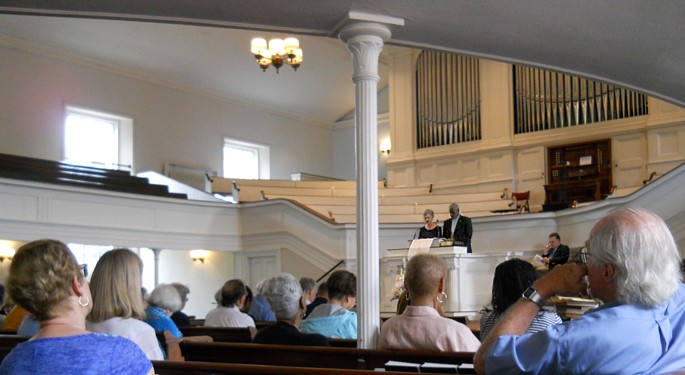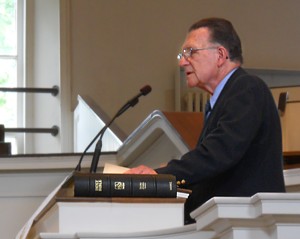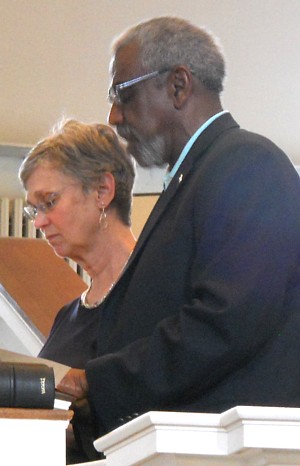 Tom Thomas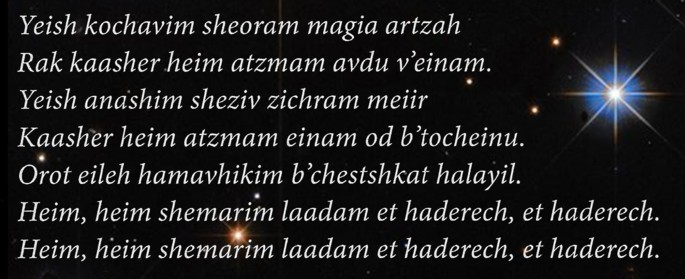 "There are stars up above so far away we only see their light long, long after the star itself is gone. And so it is with people that we loved: their memories keep shining, ever brightly, though their time with us is done. But the stars that light up the darkest night, these are the lights that guide us. As we live our days, these are the ways we remember, we remember them."
SUNDAY EVENING: CLASS OF 1969 DINNER — The Hotel at Oberlin
Professors Brian Alegant and Cynthia Frantz spoke at the dinner. They prepared slides for their talks. Here are links to those slides, and to performances of Brian's musical examples:
Aural Skills IV
Babbitt
Norman ("so far from variation" begins at 4:56)
Hurel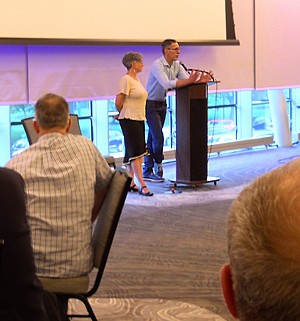 Tom Thomas
SUNDAY NIGHT: CAMPUS ILLUMINATION AND COMMENCEMENT CONCERT — Tappan Square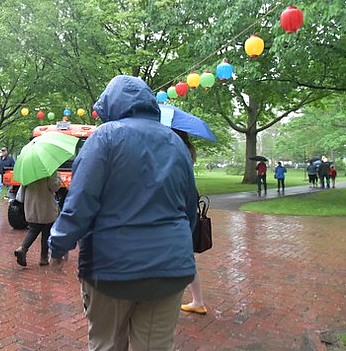 http://go.oberlin.edu/CRWphotos
Because of intermittent rain, the traditional lanterns could not be illuminated. But that didn't stop the jazz ensemble from performing for the crowd gathered around the Tappan Square bandstand, designed by Julian Smith '69.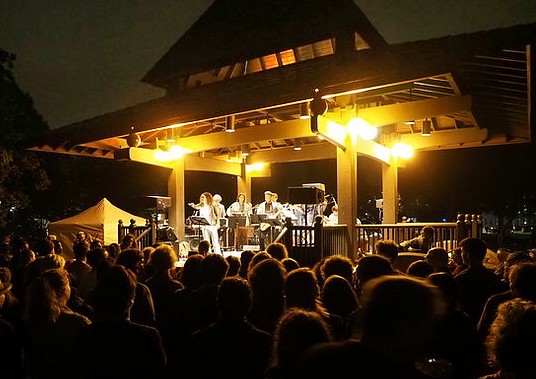 http://go.oberlin.edu/CRWphotos

MONDAY, MAY 27, 2019: ACADEMIC PROCESSION AND COMMENCEMENT EXERCISES — Tappan Square

http://go.oberlin.edu/CRWphotos
Video of the ceremony is avaiable in multiple forms, including a three-minute overview as well as the complete 2½-hour version. At 56:45 into the latter, our classmate Robert Krulwich '69 receives the Honorary Doctor of Fine Arts degree.


https://vimeo.com/339549457/74ff5d36b4
Also that morning, President Carmen Ambar welcomed the Commencement speaker, Lisa Jackson. Video of her address is here and the text is transcribed here.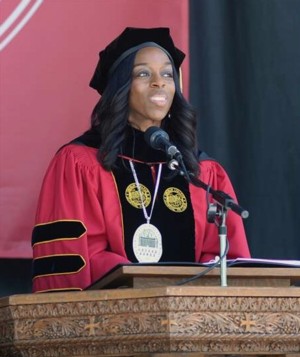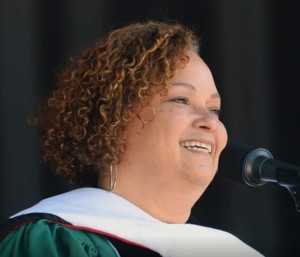 Elyria Chronicle Telegram
The president of the graduating class, Ifunanya Ezimora, is from California. She told the Commencement audience she'd found a different "vibe" in Ohio, according to the Elyria Chronicle Telegram. "When I first came to Oberlin, I was very dismayed to find that students seemed to be stressed about a wide range of things. Students were always arguing with somebody about some thing that made them unhappy for some reason. I realize now that what I took as unwarranted stress was actually an undying passion and commitment that Oberlin students have for others and themselves. ...Obies are so amazing and unstoppable because we don't have to be taught to care. We just know."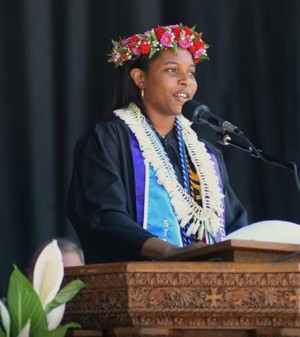 Elyria Chronicle Telegram
Congratulations to the Class of 2019!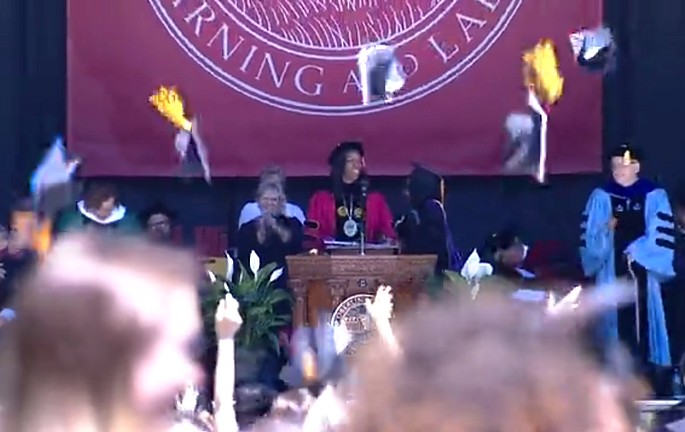 https://vimeo.com/339549457/74ff5d36b4