Below are additional details about some of the events we have scheduled.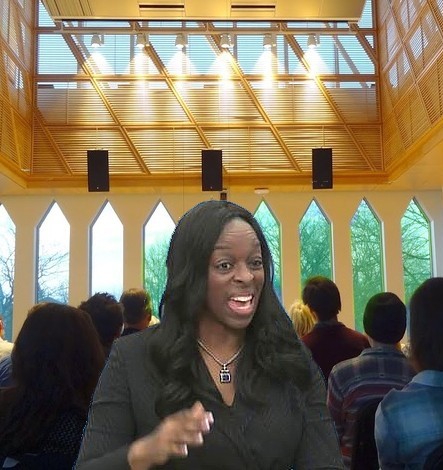 1969 Reunion Kickoff Reception FRI 3:00-4:30 P.M. — CONSERVATORY, STULL RECITAL HALL (BIBBINS 339)
Carmen Ambar, President of Oberlin College and Conservatory, will be joining us as our special guest around 4:00.
Samoan Circle SAT 8:00 A.M. — FIRST CHURCH, FELLOWSHIP HALL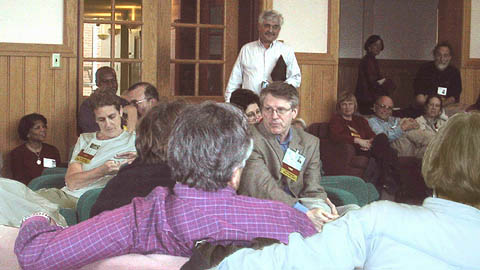 Pictured: At our 2003 reunion, Chip Hauss facilitates as Roger Conner speaks from within the circle.
First Church is in the lower right corner of the overhead view below, with IFH. marking the location of Fellowship Hall. Four chairs will be set back to back, facing outward in the middle of that big room. Everyone else sits in the chairs around the outside circle. The facilitator suggests a topic, and the four people seated in the middle start the discussion in statements lasting two minutes or less. As the muse leads them, someone from the audience stands in front of the chair of the first, second, third, etc. person. When that speaker has finished, the new person takes the speaker's place and when the circle comes back, says his/her thing. That continues until everyone who wants to participate has had a chance to do so.
Progressive Activism: What Do We Do Now? SAT 10:00 A.M. — FIRST CHURCH, FELLOWSHIP HALL (FH)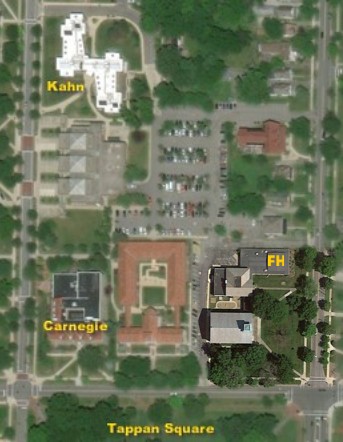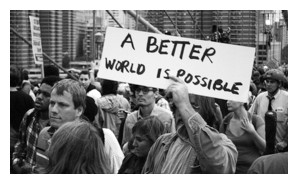 Class of 1969 Soirée SAT 6:00 P.M. — CARNEGIE BUILDING, ROOT ROOM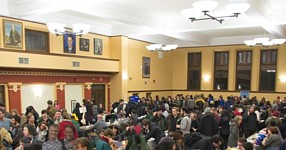 We're very pleased and excited that seven Emeritus Professors and a Former Professor are planning to join us for our party, namely: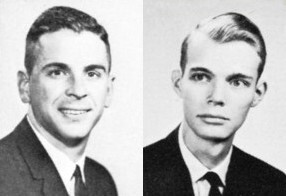 EP of Mathematics George Andrews '54
EP of Chemistry Terry Carlton and his wife Claudine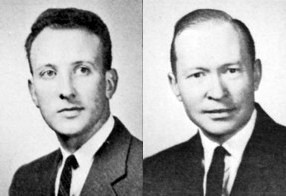 EP of Chemistry Norm Craig '53
EP of Religion Ed Long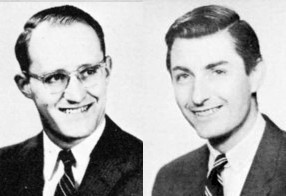 EP of English Bob Pierce and his wife Barb '66
EP of Chemistry Dick Schoonmaker and his wife Dina '69 M.A.T.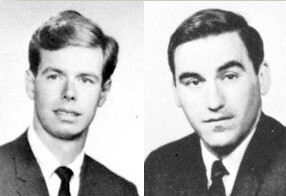 FP of Political Science Ken Sherrill
EP of Sociology Jim Walsh and his wife Kate
Class of 1969 Talent and Variety Show SAT 8:00 P.M. — CONSERVATORY, KULAS HALL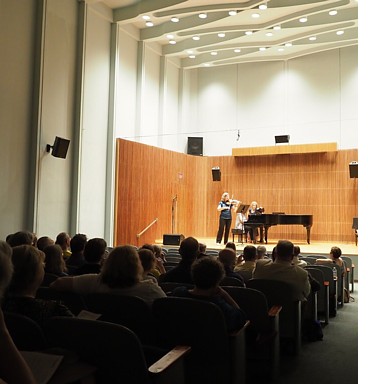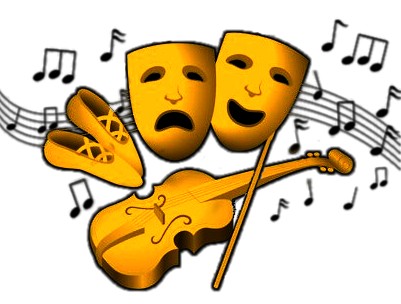 Westwood Cemetery Walking Tour SUN 1:30 P.M.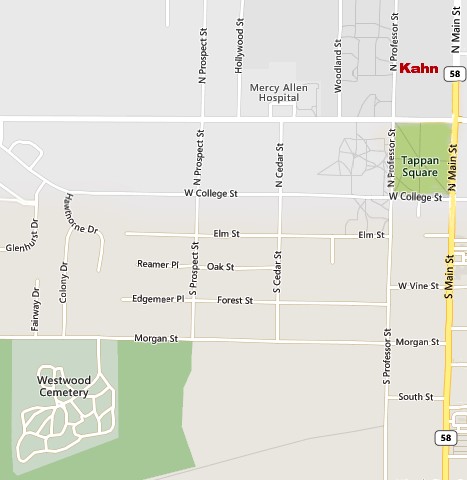 The cemetery is at 455 Morgan Street.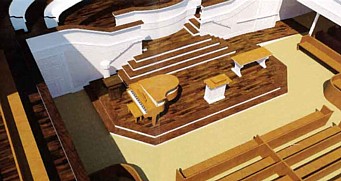 Class of 1969 Memorial Service SUN 3:15-4:30 P.M. — FIRST CHURCH MEETING HOUSE (106 N. MAIN ST.)
We'll gather in the "Meeting House," the 175-year-old sanctuary about which our class president wrote here.
Incldentally, the historic building is going to be renovated in the near future. According to this article, the Meeting House will have new staging (depicted here) to recall the original design from Charles Finney's day.
Class of 1969 Dinner SUN 6:00 P.M.
Our class has invited two current Oberlin faculty members, Brian Alegant and Cynthia Frantz, to speak to us at our dinner in the ballroom of The Hotel at Oberlin. Each serves as the chair of a working group of the Oberlin College AAPR Steering Committee.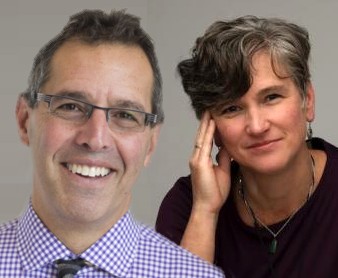 Brian Alegant is a Professor in the Conservatory, the chair of Music Theory. He earned a PhD in music theory from the Eastman School of Music, master's degrees from Temple University, and a bachelor's in piano performance from the Philadelphia College of the Performing Arts. He taught at McGill University before joining the Oberlin faculty in 1996. His research interests include performance and analysis, pedagogy, and twelve-tone music. In 2015, the Council for Advancement and Support of Education named him U.S. Professor of the year, the first music professor to be so honored. Meet Brian through this video.
Cynthia Frantz is the College's Norman D. Henderson Professor of Psychology. She received her BA from Williams College and her MS and PhD from UMass Amherst. The Society for the Psychological Study of Social Issues gave her its Outstanding Teaching and Mentoring Award in 2014. A social and environmental psychologist with a strong interest in statistics, she teaches social psychology plus an advanced seminar on the psychology of social conflict, and she also directs a program to reduce Oberlin's carbon emissions through behavior change. Her research suggests that both individuals and the environment benefit when people feel connected to the natural world. At Kahn Hall, you'll observe how feedback technology promotes systems thinking. Meet Cindy through this video.
Academic Procession and Commencement Exercises MON 9:30 A.M.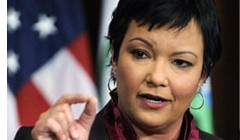 The Commencement Address will be given by Lisa Jackson, Apple's vice president of environment, policy and social initiatives. She oversees Apple's efforts to minimize its impact on the environment and is also responsible for Apple's education policy programs, its product accessibility work, and its worldwide government affairs function.
From 2009 to 2013, Jackson served as administrator of the U.S. Environmental Protection Agency under President Barack Obama. Previously, she was the New Jersey governor's chief of staff and commissioner of the state's Department of Environmental Protection.
Two Oberlin alumni will receive honorary degrees: biologist Joanne Chory '77 and broadcast journalist Robert Krulwich of our own class of '69.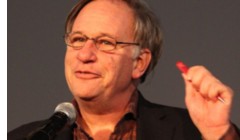 Krulwich, a former cohost with John Field on WOBC's Oberlin Digest, earned a history degree at Oberlin. For 22 years he covered science, economics, war, and technology at ABC, CBS, and PBS, illustrating stories with dancers, animation, a fake Italian opera, and a banana. TV Guide described him as "the most inventive network reporter in television." On public radio, he has cohosted Radiolab, a popular program about "big ideas," since 2003.
Farewell Brunch for the Class of 1969 MON 12:30 P.M. — KENDAL AT OBERLIN
If you've been staying at Kahn Hall, please check out of your room before you board the 11:30 shuttle to Kendal, because checkout time is 1:00 p.m. and the shuttle won't return until 2:00.