Below are additional details about some of the events we have scheduled.
.Sat. 8:00 - 9:30 AM
* Get to Know Each Other Again — or for The First Time!
We will begin the first full day of the reunion with an unusual event that will allow as many of us as possible to talk (very briefly) about whatever it is that's on our mind. In what is known as a Fishbowl in the trade union world or a Samoan Circle in the conflict resolution community, this technique (whatever you choose to call it) is a way for a large and diverse group of people to raise a lot of issues they want to talk about in a very brief period of time. We actually did one at a reunion with great success. It was fun, slightly chaotic, and useful.
Four chairs are set back to back, facing outward in the middle of a room. Everyone else sits in the chairs around the outside circle. The facilitator suggests a topic, and the four people seated in the middle start the discussion in statements lasting two minutes or less. As the muse leads them, someone from the audience stands in front of the chair of the first, second, third, etc. person. When that speaker has finished, the new person takes the speaker's place and when the circle comes back, says his/her thing. That continues until everyone who wants to participate has had a chance to do so.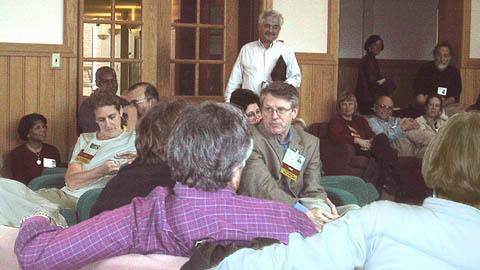 At our 2003 reunion, Chip Hauss facilitates as Roger Conner speaks from within the circle.
.Sat. 10:00 - 11:30 AM
* Concurrent sessions on various topics suggested and led by classmates
⇒ Progressive Activism: What Can We Do Now?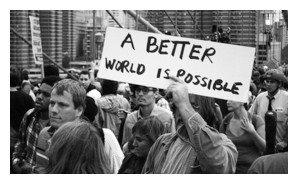 This workshop is a place for participants to share and discuss what people are doing to promote justice in our society.
We will meet in a format which is intended to give everyone a chance to speak. Everyone is welcome.
We want to explore what we have learned over the years, what activism we feel works and what activism we feel has not worked well, without casting recrimination or blame on others.
Our hope is that people will leave the workshop feeling energized, with a better understanding of how to be effective in our activism now and in the years ahead.
.Sat. 1:30 - 3:00 PM
* Get to Know Each Other Again — or for The First Time! (continued)
In the Fellowship Hall will be a series of tables, each with a theme — like: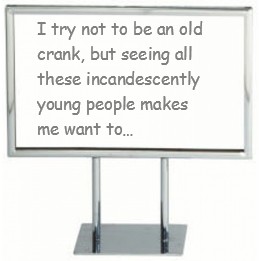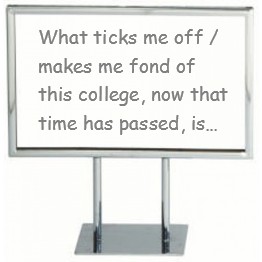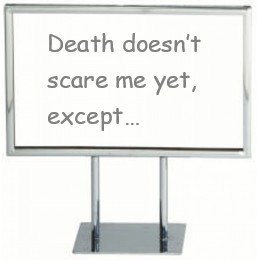 Anyone who sits down at a table is obliged to talk about the topic sentence. But you don't have to stay — you can float, pick up and drop down at another table whenever you want. We hope this format provides a counterbalance to more formal speeches and other front-of-the-room events.
.Sat. 1:30 - 3:00 PM
* Concurrent sessions on various topics suggested and led by classmates
⇒ How to care about and for family members without getting eaten up in the process
Some of us find ourselves in "helping" roles with aging parents, adult children, impaired siblings, and/or partners or spouses. The drain may be emotional, financial, or physical. In this session we will share our experiences, hope, and strength as we face these challenges. (Facilitated by Wendy Forbush)
⇒ Climate change and racism
This session will provide opportunities for personal reflection and connecting with former classmates about our experiences, challenges, hopes, and plans related to these key issues.
During the past few years, it seems that the veil that had been covering racism in our nation is being gradually removed, and many are feeling empowered to express and act-out their racial bias.
At the same time, climate change poses an immense threat to humans and other life forms.
In this session we will invite participants to share how these issues have affected each of us directly or indirectly and look at some of their interconnections. We will explore how we as Obies of '69 might help bring about racial justice and contribute to stopping climate change. The sesssion will be interactive and participatory. (Facilitated by Tossie Wiley and Russ Vernon-Jones)
.Sun. 8:00 - 10:00 AM
* Women's Breakfast — Asia House Lounge
We will convene as a large group with healthy food, begin with a few minutes of Qi Gong warmup led by Debby Roosevelt, followed by singing led by Rhonda Liss. We will then break into small groups to discuss focused topics (there's a Forum about possible subjects), reconvene as a large group for report backs, and end with singing. Non-Oberlin women spouses, significant others, daughters, and granddaughters are welcome.
.Sun. 8:00 - 10:00 AM
* Men's Breakfast — Asia House Lounge
As we have at each reunion since our thirtieth, we will have a men's breakfast. These have always been informal opportunities to discuss the ways our lives have changed as men, and we assume that the same thing will happen this time, too. Our lives, of course, have changed a lot since that first breakfast a generation ago. Now, we expect the discussion to touch on some issues that weren't on our agenda then (aging, retirement, health) as well as issues that still preoccupy us (relationships, addiction, what the future looks like). Both healthy and less-than-healthy food will be available. All men are welcome, including partners/spouses.
.Sun. 1:30 - 3:00 PM
* Westwood Cemetery Walking Tour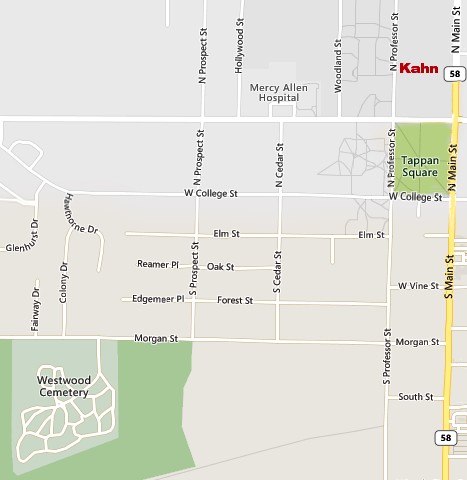 Take a historic tour of Oberlin's only cemetery (located near the west end of Morgan Street).
If Mother Nature cooperates, we will walk from Kahn Hall to the cemetery — a distance of 1.4 miles (about half an hour) — while viewing historic sites along the way.
For those who prefer not to walk or if the weather is poor, shuttles will be available to transport us to and from the location. A shuttle will leave from Kahn at 1:15 PM. The same shuttle will leave from the cemetery at 2:45 to drop you off at First Church for the Class of 1969 Memorial Service.
As we wend our way through the cemetery, we will visit the gravesites of former faculty members, college presidents, individuals involved in the Underground Railroad, and other memorable citizens, some with very unique gravestones.