Oberlin had more than 130 years of history before we arrived on campus. Here are a few stories about those days.
Have an article or web link to add to this page? Let us know!

1965: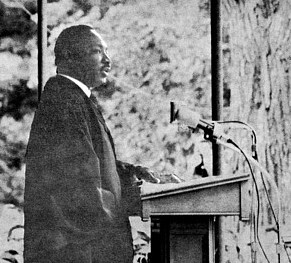 To Dream, But Not to Sleep
In a Commencement address on Tappan Square in May 1965, Dr. Martin Luther King challenged Oberlin graduates not to sleep through the great revolution.
(from Tom Thomas)

1900: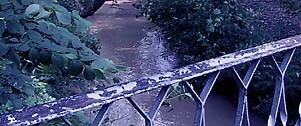 Under the Talcott Tree
John Prindle Scott (Class of 1900) serenades a female student. He invites her to open her window, listen to his song, don her overshoes, and come down to join him beneath the Morgan Street bridge.
(from Tom Thomas)

1897:

The Great Wooden Spoon
It was first awarded in 1895. Ozro Johnson won it two years later. I claim it now. All is explained in my letters as Class President, which you'll find by clicking on Creativity and scrolling down.
(from Wayne Alpern)

1890: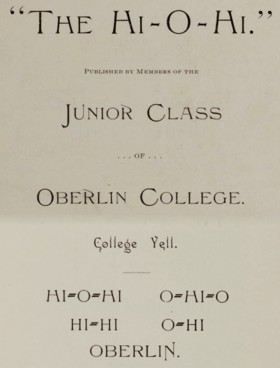 Hi! Hi! O-Hi-Oberlin
When Oberlin's yearbook was first published in 1890 by members of the junior class, it took its name from the cheer of the crimson & gold.
The editors gathered all kinds of statistics. For example, the sophomore class included 50 gentlemen and 59 ladies, evenly divided among philosophical, classical, and literary courses of study. Thirty-five percent wore eyeglasses.
And that Class of 1892 can be graphed according to church membership. Charles Finney's campus had always been virtually entirely Protestant Christian.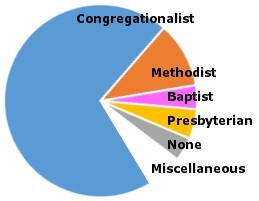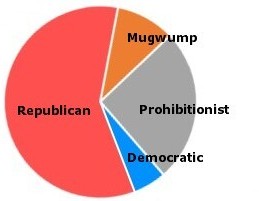 We can also graph those sophomores by politics. During the administration of U.S. President Benjamin Harrison, they identified mostly with his Republican party. The Democrats at Oberlin had not yet recovered from the Civil War era, and they were outnumbered even by the renegade Republicans known as Mugwumps.
(from Tom Thomas)

1883: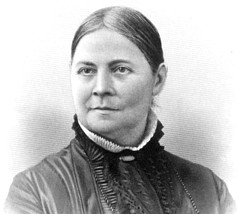 Oberlin and Woman
Women — not only men — have been allowed to study at Oberlin ever since its founding in 1833. For the Jubilee in 1883, Lucy Stone returned to her alma mater and gave a speech on the Fourth of July. Let's become even more radical, she said. Women — not only men — ought to be allowed to vote.
(from Tom Thomas)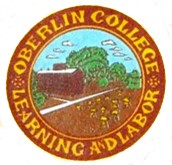 ....