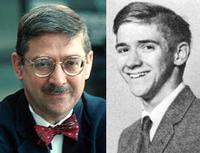 John Downey Slade, M.D., born Feburary 19, 1949, suffered a stroke in July 2001 and died on January 29, 2002. Dr. George DiFerdinando of Oberlin's Class of 1971, who was then Acting Commissioner of the New Jersey Department of Health and Senior Services, called Dr. Slade "the godfather of our tobacco control community. He worked tirelessly for decades to prevent tobacco use among children, help smokers to quit, energize tobacco control advocates, and research the medical and psychosocial aspects of nicotine addiction." More than a hundred of his colleagues posted thoughts and tributes which are preserved on this web page.
---
Harriet Craig McIntyre of our class remembers:
John Slade and I were two of a very small contingency who attended Oberlin from the Atlanta, Georgia area. I remember him as a thoughtful and sincere gentleman, with a touch of mischief in his eye, who must have been bright, indeed, to have entered as a freshman (by my calculations) at 16. We proudly drove the station wagon representing Georgia in the Mock Convention parade, and I remember one "date" where we played recorders together in his off-campus apartment.
We kept in touch after graduation, as I taught in the Atlanta Public Schools and John was in Emory medical school. It was through his work on a task force for the Governor of Georgia that I was invited to the Governor's Mansion to a banquet hosted by Ms. Lillian (Rosalynn was out of town) and her son, Jimmy Carter. John also graciously invited me to accompany him to the party celebrating the night Andrew Young was elected to Congress, even though John had done all the work to get him elected.
I guess, in hindsight, it is obvious John was on a mission to improve the world, even then. Sadly, we lost touch when I moved to Dallas, and it was a shock to see he had died at 52.
It was not, however, surprising to read how much he had accomplished in his short time on earth. He was an expert on the treatment of alcohol, drug and tobacco addiction, and a true pioneer in the field of regulation of cigarettes. One friend and colleague deemed Slade "the Renaissance man of tobacco control." In John's honor, the Society for Research on Nicotine and Tobacco present annually the John Slade Award, honoring members who have made outstanding contributions to public health and tobacco control through science-based public policy and public advocacy.
At the bottom of this page is a link to the New York Times obituary on the TimesMachine, a subscriber-only feature. A more recent tribute may be found at https://globalbridges.org/spotlight/remembering-john-slade/#.XKj6bqQpC70.
https://www.nytimes.com/2002/02/09/nyregion/dr-john-slade-52-fighter-for-regulation-of-cigarettes.html