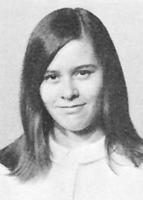 Christine A. Rhinemiller Woodall, 34, died on May 19, 1982, at her home in El Cerrito, California, following a 1½-year cancer illness.
I knew Christine briefly when she dated a good friend of mine and my now-husband Jud's — Dave Cavenaugh '71. (I hope this is an accurate memory and not some mixed up one....) I remember that she was maybe the first of my contemporaries that I knew to die, and it really shook me. Now I feel equally shaken to see how many of our classmates have died. Thinking about this made me want to look for some information about Christine's death, and I found the obituary quoted below. I found out I didn't really know her at all. She accomplished a lot in her short life. (Submitted by Bobbie Sproat)
Because she had come to Oberlin from Huron, Ohio, the following obituary information appeared in the Sandusky Sunday Register.
While living in northern Ohio, Christine was active as a field director for the Erie Shores Girl Scout Council (based in Lorain) and a social worker for the Oberlin Health Commission and the Oberlin Community Welfare Council. After majoring in sociology at Oberlin College, she received a Master's of Public Health degree from the University of Pittsburgh in 1973.
In her work with the underprivileged, she was executive director of the Neighborhood Health Centers of Seattle, Wash., from 1975 to 1979. From 1979 until her death, she was management-finance adviser for the Humanistic Alternatives to Addiction Research and Treatment Center in San Leandro, California. Ms. Woodall also had a commercial pilot's license and was a flight instructor prior to her illness.
Surviving are her husband, Robert R. Miksch, and a son, Michael, both of El Cerrito; her mother, Rita J. Rhinemiller, Howard, Ohio; her father, John O. Rhinemiller Jr., Sandusky; and her grandmother, Marguerite Thayer, Vermilion, Ohio. She was preceded in death in 1971 by her first husband, Robert B. Woodall.
A memorial mass was celebrated May 27, 1982, at Sacred Heart Catholic Church at 410 West Lorain Street in Oberlin, with burial services later at Westwood Cemetery.
https://newspaperarchive.com/sandusky-sunday-register-may-23-1982-p-6/