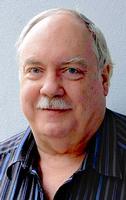 William Hull, born in Buffalo, passed away March 6, 2018.
At Oberlin College and Conservatory, he studied both chemistry and piano. As an honors student in chemistry, he calculated electronic wave functions; as a music student, he trained for two semesters as a piano technician. He went on to pursue both fields.
First, he earned a doctorate at Harvard in 1975 (dissertation: Biophysical studies of alkaline phosphatase from Escherichia coli using 19F and 31P Nuclear Magnetic Resonance). Moving to Rheinzabern, Germany, in 1978, he joined the Central Spectroscopy group at the German Cancer Research Center (DKFZ) in 1985 and soon became department head.
Then in 2012 Dr. Hull retired. He explained, Nach 36 Jahre Tätigkeit als Wissenschaftler, verfolge ich jetzt mein Hobby Klavierstimmen und Reparatur als zweiten Beruf. "After 36 years working as a scientist, I'm now following my hobby --- piano tuning and repair --- as a second career." He even performed as a solo pianist and in chamber ensembles, in venues including the Sydney Opera House. He often accompanied soprano Marta Schmidt. Although very ill, he had planned a final concert with Marta for May 2018 but passed away two months before.
We haven't located an obituary notice, but below is his LinkedIn page.
https://www.linkedin.com/in/william-edmund-hull-035039144/?originalSubdomain=de