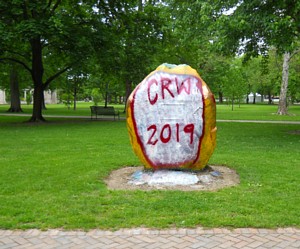 Welcome to our
Oberlin College & Conservatory
Class of 1969
50th Reunion
Website

Thanks for coming! As part of the CRW (Commencement / Reunion Weekend) over the Memorial Day holiday, our 50th Reunion was held on campus May 24-27, 2019.
If you're new to this website, you'll see an Announcement below explaining how to join it.
If you've been here before, you can continue posting comments to your Classmate Profile. Express your ideas, look back in time, and swap messages with classmates about shared activities and interests — whether or not you were able to attend. And check out the new Scrapbook section. We hope to maintain the website for years so it can serve as the "memory book" for our 50th Reunion.
The next big get-together for our class will be a Cluster Reunion together with two other classes, 1967 and 1968. It will be held May 26-29, 2023. Save the dates!
ANNOUNCEMENTS
Our class raised a total of $8,298,891.84 for Oberlin during our Reunion giving period, according to Alan Goldman, Associate Director of Gift Planning. This exceeds the amount announced at the Crimson & Gold Convocation May 26, because we contributed nearly an additional quarter of a million dollars before the end of the five-year period on June 30. Alan writes, "This is really a terrific result, and I don't think any of us would have predicted such an outcome even six months ago."
If you're new to this website, please go to the First Time Visitors menu item (on the top bar above) to learn about it. Then go to Classmate Profiles and locate your name. (Tip: try a Search for your name, which is faster that scrolling through that long list.) Click on your name and follow the prompts to create your profile.
Many of your classmates have already joined, and you can check out their profiles. However, many have not, and you can help us out! Go to Not Yet Joined This Site , where you'll find several of your old friends on the list. If you know how to get in touch with any of them, please do so and ask them to join us here.