One of the highlights of most Oberlin Reunions is the all-class Choral Sing in Warner Concert Hall. Here's a photo from the 2013 event, which featured "A German Requiem" by Johannes Brahms.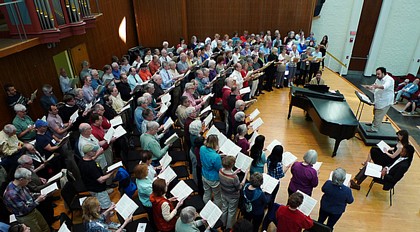 The Choral Sing is usually a semi-rehearsed read-through "performance" of a major work which has some abiding importance to the 50th Reunion Class. This coming May, that would be 'Us.'
During our Obie tenure, Conservatory conductor and dean Robert Fountain conducted Musical Union in the Brahms Requiem, or "Ein Deutsches Requiem." Rather than the fearful fire & fury of other such works, the Brahms Requiem is filled with both ultimate joy and exquisite comfort.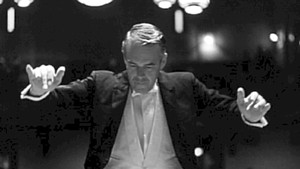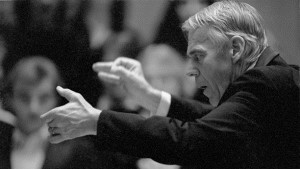 In tribute to Robert Fountain's tremendous musical influence on generations of Oberlin students, fellow faculty, and MU townies — and the world community, via annual College Choir tours and recordings — we invite all reunion attendees to join in singing the Brahms Requiem.
This read-through performance will also memorialize and pay tribute to the many losses in our Class of '69 family.

Class of '69's Russell Fox, the Con's first Master's degree in conducting, will lead us in this May's Reunion Choral Sing. Links to self-rehearsal resources like scores and suggested YouTube links will be posted by mid-January. During the reunion, we plan to rehearse at 5:00 Friday, May 24, and again at 2:00 Saturday, May 25, followed by our performance at 2:30.
Let Russ know at the email address below of your interest in either singing or possibly playing in an orchestra. And even if listening is your specialty, plan to enjoy this Warner Hall event!

rslfox@mac.com