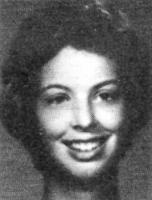 Katherine Jane Hohl of Houston, Texas, died at age 71 on February 1, 2019. She is survived by her sister Mary Hohl of College Station, Texas, and by many dear friends.
---
Kathie Hohl was my roommate in Dascomb Hall freshman year. She was 6'1" tall and was proud of having one blue eye and one brown. She loved it when people would notice this and tell her about it, as if she had never noticed that herself.
She was from Ada, Oklahoma. In her early days at Oberlin, she was told by a college administrator that her rural Oklahoma accent was "substandard" and was offered remedial help to achieve a standard American accent. Kathie found this suggestion highly insulting.
Kathie loved the informality of Oberlin, and she did not like having to dress for dinner. She kept a skirt hanging on the door knob for quick access. At dinner time, she pulled on her skirt and buttoned and zipped it as she ran down the stairs for dinner.
She was known for welcoming and listening to others in our third floor Dascomb section. In the evening, when I'd return from studying at the library, Kathie would usually be sitting on her bed offering empathy and affirmation for a friend.
Kathie left Oberlin after one year. She graduated from the University of Oklahoma, and went on to get a PhD in accounting at Oklahoma State University in 1976. [Her thesis was "An Investigation of the Surrogateship of the GNP Deflator for Wholesale Price Indices."] She taught accounting for several years at Bowling Green State University in Ohio. Later, Kathie became a self-taught computer programmer and worked on contract with large corporations in Houston until she chose to retire early after her breast cancer diagnosis in 1996.
Kathie loved classical music and took violin and cello lessons as an adult. Her friendships brought her joy. She had no children, but became a beloved honorary grandmother for the four children of her cello teacher. Being with these children brought her great delight.
Kathie and her sister Mary were very close. Mary stayed with Kathie during Kathie's debilitating bout with West Nile Virus four years ago. Mary also stayed with her sister during Kathie's many cancer surgeries, and during her last days in home hospice. Kathie often talked about her gratitude for her relationship with her sister and her deep friendships with many neighbors and friends. She expressed pride and love for her honorary grandchildren. She will be missed by many. (Submitted by Cynthia Swindel Sweet)