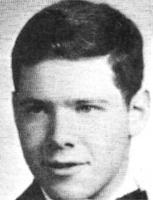 Allan R. Pearl died February 10, 1978, a week before his 31st birthday, from complications of Hodgkin's disease. When he was a student, the hometown listed for Allan — as well as for Gary Pearl '71 (presumably his brother) — was Great Neck, New York. Gary later became a pathologist in Longwood, Florida.
I can't find much information about Allan from the time he left Oberlin and died in Santa Clara, California. Strangely, I did see a photograph of his grave in Orlando, Florida. Hopefully, another of our classmates will have more information.
Both Allan and our classmate Steven Brody were diagnosed with Hodgkin's disease while we were at Oberlin. Those were early days for the staging of Hodgkin's disease, but I recall that Allan's prognosis wasn't as good as Steve's.
Though he was a history major, we shared several classes and became good friends. I recall his wit, optimism, and goodwill. He gave my first wife and me the one wedding gift I have ever received that remains in use. It was a set of Oneida stainless steel flatware. I'm stirring my coffee with a teaspoon form it right now. (Submitted by Terry Sweetser)
https://search.ancestry.com/cgi-bin/sse.dll?indiv=try&db=CAdeath1940&h=5670301