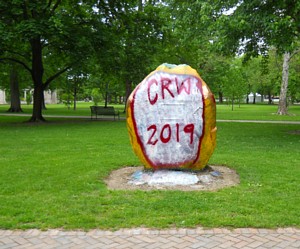 Welcome to our
Oberlin College & Conservatory
Class of 1969
50th Reunion
Website

Thanks for coming! As part of the CRW (Commencement / Reunion Weekend), our 50th Reunion was held on campus May 24-27, 2019, over the Memorial Day holiday. We hope to maintain this website for years so it can serve as our "memory book." See the -Scrapbook section.
If you're new here, you'll see an Announcement below explaining how to join the site. If you've been here before, continue staying in touch with comments on your -Classmate Profile as well as messages to your friends.
Our next big get-together will be a Cluster Reunion together with two other classes, 1967 and 1968, to be held May 26-29, 2023. Save the dates!
ANNOUNCEMENTS
Preserving Buddhist Treasures
For my July 3 birthday this year, please consider a tax-receipted donation to https://treasure-caretaker-training.networkforgood.com to support preservation of monastery treasures in remote and vulnerable areas.
Our non-profit's current endeavour during the pandemic, is to complete Preservation of Buddhist Treasures Resource, our free, online guide to low-cost and practical preservation measures, using locally-sourced materials and combining scientific knowledge with traditional methods, with respect. Please feel free to contact me to read some advance chapters, and please do consider a donation at this time. Thank you!
Ann Shaftel
If you're new to this website, please go to the First Time Visitors menu item (on the top bar above) to learn about it. Then go to Classmate Profiles and locate your name. (Tip: try a Search for your name, which is faster that scrolling through that long list.) Click on your name and follow the prompts to create your profile.
Many of your classmates have already joined, and you can check out their profiles. However, many have not, and you can help us out! Go to Not Yet Joined This Site , where you'll find several of your old friends on the list. If you know how to get in touch with any of them, please do so and ask them to join us here.