Dear '69 Classmates,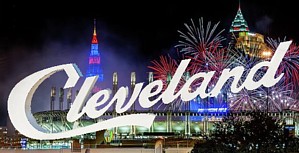 Are you interested in getting together a couple of days early? Would you like to explore the big-city excitement that did not exist when we were students? Cleveland is now the "City that Rocks!"

We have been working on a pre-reunion experience, and we have some new details for you which are highlighted below. Save the dates, May 22-24!
(Note: this is an optional event and not officially managed by Oberlin.)
RTA's Red Line (the "Rapid") will take you from the airport directly to the Tower City Station, located on Public Square — only a block from the Drury Plaza Hotel. This 1931 landmark, opened to guests just three years ago after a stunning $52-million renovation, offers a free hot breakfast and a free happy hour! Bring your bathing suit — it has an indoor pool and whirlpool.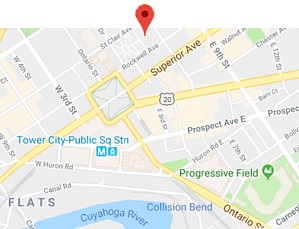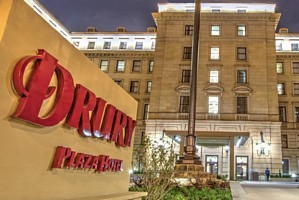 I have reserved a block of rooms at the Drury Plaza Hotel. If you're interested, the cutoff date for reservations is April 20, but as of March 15 there are only seven rooms left. Go to www.druryhotels.com or call 1-800-325-0720. Mention you're with the Oberlin College block, group number 2361971. The group rate also applies two days prior, if you want to arrive early.
The initial plan is to meet for dinner at 6:30 pm on Wednesday, May 22. A cozy jazz club garden room has been reserved just for us. Please let me know by email if you're planning to attend.
The next day will afford lots of possibilities.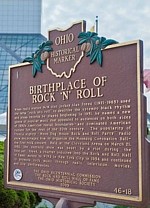 The Rock and Roll Hall of Fame, open from 10:00 to 5:30, was a popular option last year. If we have a group of 15 or more, the discounted price will be $16; please let me know if you're interested. Next door is the Great Lakes Science Center, home to the NASA Glenn Visitor Center.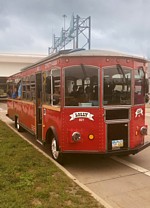 Lolly The Trolley is a city tour of downtown featuring more than 20 miles of facts and fun. It's a good way to see it all without exhausting yourself! A one-hour tour is $16 per person if we have a minimum of 25.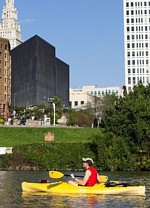 Boat tours are not available until the weekend, but you can go kayaking on the Cuyahoga (no longer burning!) Bike rental stations are also available throughout downtown and University Circle (five miles east), and there is now a modern bus line.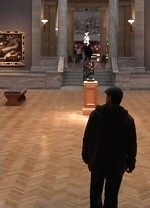 In University Circle, the Cleveland Museum of Art is free and amazing. It will be featuring an interesting exhibit on musican, composer, and photographer Gordon Parks. There is a lovely restaurant and cafe in the atrium.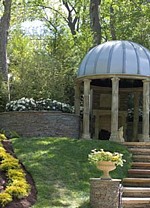 And the Botanical Garden is right across the street. Both are worth a visit.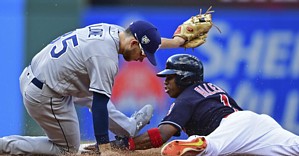 ►

BASEBALL
Cary Seidman writes:
As part of our pre-reunion activities in Cleveland, I have purchased a block of 30 tickets for the Indians-Tampa Bay Rays game on May 23 at 6:10 PM. They are decent seats, lower deck, about 15 rows back, about midway between first base and the right field foul pole. We will be near many of the choice eating spots, which are at "The Corner", in the concourse behind the right field foul pole. Progressive Field is a short walk from downtown Cleveland, along Carnegie Avenue, between East 9th Street and Ontario Avenue.
If you're interested, my plan is to email the ticket(s) to you, after which you can either print them or, if you happen to have the (free) MLB Ballpark App, save them on your phone.
The cost is $33.00 per ticket. As I have already purchased the tickets, you should mail a check payable to me and have it in my hands no later than April 23, after which the Indians will credit me with the amount of any tickets we have not sold. I hope we will use all 30.
Send your check to me at:
Cary Seidman
2968 Corydon Road
Cleveland Heights, OH 44118
PLEASE include your email and phone number. Mine are cseidman@earthlink.net and 216-314-1104, should you have any questions.
I hope to see a bunch of you at the game, because, as Indians fans well know, THIS is the year... as it has been since 1948.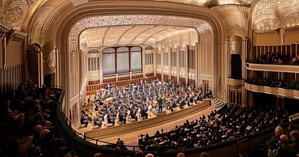 ► CLEVELAND ORCHESTRA
The May 23 program in beautiful Severance Hall will include Grieg, Strauss, and Sibelius with solo by Simon Keenlyside. This is the last weekend of the season, so anyone interested should reserve tickets early at www.clevelandorchestra.com.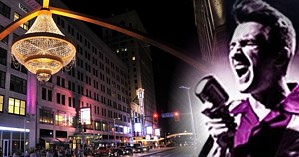 ► BROADWAY MUSICAL
This will also be the last weekend for the Tony-winning tribute to rock and roll's "Million Dollar Quartet" (Johnny Cash, Jerry Lee Lewis, Carl Perkins, and Elvis Presley). It's playing at the Hanna in Playhouse Square, home of the world's largest outdoor chandelier.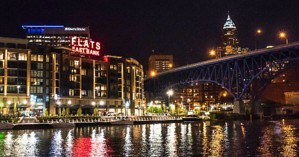 ► NIGHTCLUBS
You and your Obie friends can investigate one of the music clubs along the river in the Flats.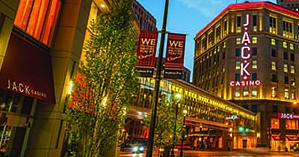 ► GAMES OF CHANCE
Or if anyone has money to spare, there is a casino within walking distance on the newly redesigned Public Square!
Some of you might want to include one of the "Thursday" options on Friday morning.
I have had several requests for ride-sharing to Oberlin on Friday. If you need a ride or have room in your car, please advise and we will try to organize. Oberlin does have a shuttle from the airport but it is not posted yet.
This plan is still in the making, and I would welcome any ideas or suggestions. It should be a fun and relaxing time before we have even more fun in Oberlin.

Hope you can join us,
Carol McLaughlin Fishwick

dfishwick@sbcglobal.net