On Saturday evening during the reunion, we are having a Talent Show! It will be held in this beautiful recital hall in the Con.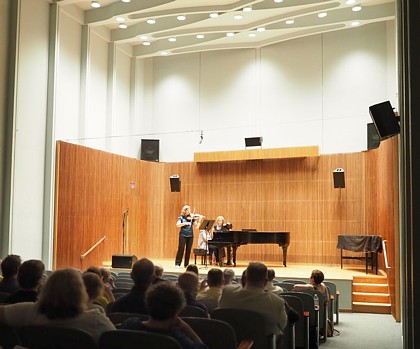 It would be great to have a real variety show with all different kind of acts. Music is an obvious one. We will have a piano there and all kinds of instruments are welcome, including voice. But we are also hoping to have:
dance,
acting,
comedy,
mime,
magic,
poetry,
storytelling,
presentations of visual arts,
film,
gymnastics,
feats of strength,
and any other creative activity or entertaining display any of you can possibly think of.
Depending on the number of acts, each person should be able to perform for about 5-10 minutes. Two or more people can of course perform together. Tom Griffin is willing to coordinate a jazz combo.

We want an enjoyable night of entertainment with maximum participation by everyone. Having said that, please understand that depending on the number, type, and quality of proposed acts, it is possible some might have to be limited in scope or in the worst case gently excluded; but our goals embrace diversity and inclusion, not simply quality. It's less important how much skill or talent you have than how much enthusiasm you contribute.


If you are interested in participating, please send us your proposal (a description of what you'd like to do and its approximate duration) and some idea of your relevant background (experience and training). Kindly also send any mp3 audio recordings, jpg pictures or videos you can, with reference to any online resources you might also have. UPDATE: Deadline just extended to March 15!
Finally, even if you don't actually take the stage, we hope you will all attend and cheer on your classmates who do. If there's time, some comments, questions and discussion would be nice too. It promises to be a lot of fun, perhaps even a highlight of our weekend together!


Wayne Alpern

waynealp@aol.com