The reunion will be May 24-27, 2019. Commencement is on Memorial Day (Monday, May 27).
Many of the following Frequently Asked Questions and their answers have been adapted from the Reunion Volunteer Planning Guide.

What browser should I use to access this website?
According to the site's designer, Class Creator, Chrome and Firefox and Microsoft Edge seem to work best. A Mac user also reports that Safari has given him no hint of a problem.
There's a separate issue, however. Sometimes your email provider might flag the site's messages, including emails from your classmates, as "spam." Don't forget to check your spam filter now and then.
Now that I've joined the website, am I registered to attend the reunion?
No, not yet. Watch for a registration packet that the Alumni Association will mail you in early March. That will be when you can sign up for the reunion weekend, including housing and individual events like class dinners, and pay your registration fees.
Where will our class headquarters be? Are there other housing options?
We'll gather in Kahn Hall, a sustainable LEED Silver building for first-year students which was dedicated in 2010. It's on North Professor Street across from East Hall.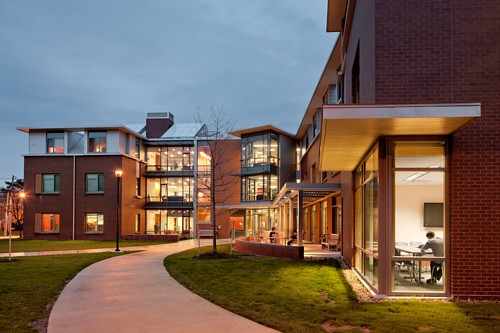 If you'd like to recreate the college experience, each room at Kahn has two twin-sized beds, with a charge of $40 per night per bed. Please note that residence hall accomodations are very basic and offer few amenities. Reunion guests will find two single-sex bathrooms on each floor, one for men and the other for women. Dorm rooms will be available for Friday night through Sunday night, but must be vacated by 1 p.m. on Monday.
(Why only those three nights? Danielle Young explains that after the undergraduates leave their dorm rooms, there is a short turnaround time. "Our teams need all the time they can get to remove remaining items, clean, and audit the rooms ahead of the arrival of our guests. We have a similar issue right after Commencement / Reunion Weekend as the college prepares for summer conference guests." However, if you'd like to arrive early or leave late, "the Hotel at Oberlin usually has rooms available on Thursday and Monday nights." )
Alternatively, you can make other housing arrangements elsewhere for the weekend — but not at The Hotel at Oberlin. Alumni celebrating their 60th reunion will be housed there and the rooms will sell out, so the Hotel is not available to other classes. You might have to drive ten miles to find another hotel in Elyria or Amherst. However, the college does list more than three dozen Bed & Breakfasts on this page.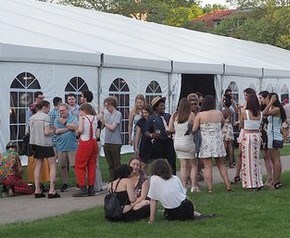 Why should I attend the Reunion?
It's fun! The weekend features learning, art, music, meals, memories, and camaraderie.
Visit and (re)connect with friends from your college years!


Discover other classmates with whom you have a great deal in common, even though you may not have known each other back then!



See what is new at Oberlin and what has not changed since your time here!



Meet current students, hear their perspectives, and share your own (they are interested)!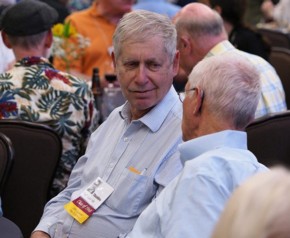 Will this reunion be special?
People from a recent 50th reunion said:
"[We] had a 'hoot'."
"[It] was truly a transforming experience for me."
"I enjoyed the reunion much more than I anticipated, never having attended any reunion [before]."
"I found the reunion ... to be moving, and the reconnection with classmates from 50 years ago to be a tremendously positive experience.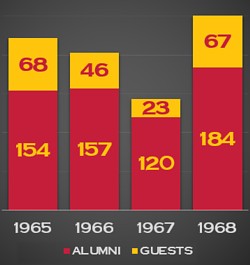 How many of my classmates will be coming?
Attendance at recent 50th reunions has averaged 154 alumni and 51 guests. In 2018, the Class of 1968 welcomed 184 alumni back to campus, nearly 27% of their members.
The Class of 1969 took a survey around that time. Not everyone responded, but of those who did, 66% said they planned to attend in 2019 and another 20% said "maybe."
Class President Wayne Alpern wrote in January, "Attending this Quinquagenary for sure requires overcoming inertia, age, and the path of least resistance. It's not easy to get up and greet folks you haven't seen for half a century: you've changed, we've changed, and so has Oberlin. …Forget all your ifs, ands, or buts. It's your one and only chance to relive, recreate, and rejuvenate, not for the sake of our school, or the sake of our classmates, but for the sake of yourself."


What events will be held that weekend?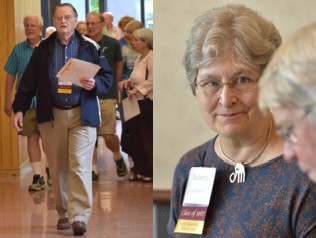 There will be many! Most colleges don't schedule their commencements and alumni get-togethers to take place concurrently, but Oberlin does. Alumni of all ages will join the graduating Class of 2019 for Commencement/Reunion Weekend (CRW), which will include an estimated 225 events. Some will be specifically by and for the 50-year class; a 30-person committee met in late September to begin planning these activities, and a preliminary schedule has now been posted.
However, don't try to attend something every hour. Allow enough free time for catching up and looking around. The most common complaint is, "I didn't have enough time to just visit."
Now that I'm a septuagenarian, I don't get around as well as I did as a sophomore. Will this be a problem?
As a new member of the Half Century Club, you'll have shuttles available to transport you around campus. Unfortunately, some campus buildings are not comfortably accessible to everyone, including those who use wheelchairs or walkers or other mobility devices. If you have special needs, let the college know on your registration form. If you require personal assistance, plan to bring a care provider with you as a guest.
My college education was paid for long ago. Why does the Class of 1969 want me to donate more to Oberlin now?
Here are some of the most common reasons our alumni and friends give for their decision to support Oberlin:
►To affirm a progressive tradition dating back to its founding, which has seen its students and faculty active in seeking social change for almost 200 years.
►To support its top-ranked Conservatory, which helps make music a central element of campus life.
►To recognize and help maintain its nationally-regarded art museum.
►To stand by its commitment to the environment, not only in its teaching but in its own practices.
►To give back to the institution that helped make them who they are today.
►To give forward to the next generation. Most annual giving — nearly 90 cents of every unrestricted dollar donated — supports scholarships and financial aid, making an Oberlin education possible for those who otherwise could not afford it. And our Class Gift is the Class of 1969 Scholarship Fund.
Giving makes you feel good. Really, it does. Research shows that the act of giving reduces stress-related activity in one area of the brain while increasing reward-related activity in another. Our brains are wired to feel rewarded for magnanimity and selflessness.

You know you're making a difference, and your generosity may inspire others.

And you can make a gift in honor of someone, either living or deceased — a thoughtful, endearing gesture that speaks to the profound influence that person has had on our lives.
What's the difference between "planned giving" and writing an occasional check?
Throughout Oberlin's history, planned gifts have been the primary source of funding for our endowment, which provides critically needed support for scholarships and the academic program. Today, 80% of its value is attributable to the foresight and generosity of planned gift donors.
Planned giving includes life income gifts such as Charitable Gift Annuities and Charitable Remainder Trusts; the donor gets an immediate tax deduction plus an income for life, after which Oberlin receives whatever's left. Planned giving can also include real estate, appreciated stock, designating the college as a beneficiary of your retirement plan, and of course including the college in your will. (If you've already made one of these arrangements but haven't yet told Oberlin about it, please do so! We'd like your gift to be counted toward the Class of 1969's reunion fundraising goal.)
Unlike capital giving or an endowment gift, which are oriented toward the future, the impact of an annual gift is immediate. A gift to the Oberlin Annual Fund has a direct impact on Oberlin students and faculty as soon as it is received.
You can give at www.oberlin.edu/donate. Alternatively, contact the Office of Gift Planning, gift.planning@oberlin.edu (440-775-8599), or the Annual Fund, annual.fund@oberlin.edu (800-693-3167).
Continue your support. If a charitable cause is worth supporting now, wouldn't it be nice to know you could help after your lifetime, too? A gift in your estate plan helps us continue to fulfill our mission.
Honor someone. Paying tribute to a loved one, either living or deceased, is a thoughtful, endearing gesture that speaks to the profound influence that person has had on our lives.
Make a difference. Most people want to know at the end of their lifetime that they've made a difference. Planned giving is a way to ensure the people and causes most important to you benefit from your generosity. You can indeed make a difference.
Set an example. Your generosity may inspire others. When someone else witnesses your generosity, that person is more likely to be charitable or make a donation. Children in particular can benefit from seeing an adult they respect donate or volunteer.
Just feel good. Giving makes you feel good. Really, it does. Research shows that the act of giving reduced stress-related activity in one area of the brain while increasing reward-related activity in another. Our brains are wired to feel rewarded for magnanimity and selflessness.
Why should I support Oberlin?
♦ It's a trend-setter among other liberal arts colleges around the country.
♦ It remains one of the top feeder colleges to Ph.D. programs.
♦ It fosters academic and musical excellence in an equitable and inclusive educational environment.
♦ The world needs more Oberlin graduates!