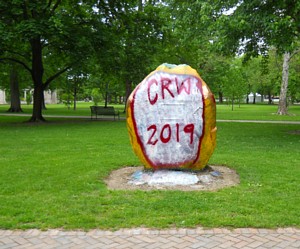 Welcome to our
Oberlin College & Conservatory
Class of 1969
50th Reunion
Website

Thanks for coming! As part of the CRW (Commencement / Reunion Weekend) over the Memorial Day holiday, our 50th Reunion was held on campus May 24-27, 2019.
If you're new to this website, you'll see an Announcement below explaining how to join it.
If you've been here before, you can continue posting comments to your Classmate Profile. Express your ideas, look back in time, and swap messages with classmates about shared activities and interests — whether or not you were able to attend. And check out the new Scrapbook section. We hope to maintain the website for years so it can serve as the "memory book" for our 50th Reunion.
The next big get-together for our class will be a Cluster Reunion together with two other classes, 1967 and 1968. It will be held May 26-29, 2023. Save the dates!
ANNOUNCEMENTS
Lorna Forbes had a sign-up list at Kahn for people who wanted to receive "Sophie Seligson's War Story" via email, but the list vanished. However, the story itself has now appeared on this website! It tells of a Belgian Jewish refugee fleeing the Nazis in France and is linked from the section called Creativity .
If you're new to this website, please go to the First Time Visitors menu item (on the top bar above) to learn about it. Then go to Classmate Profiles and locate your name. (Tip: try a Search for your name, which is faster that scrolling through that long list.) Click on your name and follow the prompts to create your profile.
Many of your classmates have already joined, and you can check out their profiles. However, many have not, and you can help us out! Go to Not Yet Joined This Site , where you'll find several of your old friends on the list. If you know how to get in touch with any of them, please do so and ask them to join us here.
A recording of the Reunion Choral Sing is online! Thanks to the Conservatory, the audio of our May 25 read-through performance of the Brahms German Requiem will be available until June 29. It's a 178-megabyte MP3 file, 75:47 in length. Here's the link: